A recipe for success: Mixing mocktails helped this health-conscious yogi revitalize her energy while making a major life change
by Reyna Gonzalez
As a child, I loved watching old black-and-white movies, and one of my favorite stars was Shirley Temple. Like many others, I was drawn to her charismatic presence onscreen and wowed by her tap dancing. I loved all things Shirley Temple, so when I discovered in my teens that there was a cocktail named after her, I was determined to have one. Back then, I felt that ginger ale itself was a special-occasion drink, but the Shirley Temple—with the added grenadine syrup and the maraschino cherry garnish—now that was pure sophistication! The Shirley Temple was the perfect summer drink for me when I was a youngster, but as an adult, I felt that the drink credited as the "original mocktail"–a cocktail without alcohol—could use a splash or two of vodka. Hence the Moscow Mule, with ginger beer and vodka, became my favorite grown-up summer cocktail.
It's still summer time, with the Labor Day holiday on the way, and there is nothing quite as refreshing and festive as a cocktail served over ice and garnished with seasonal fruit or the quintessential paper umbrella. Beer and wine are the norm in the cooler months, but cocktails take center stage in summer. The challenge is that they're so refreshing that you might be tempted to have one too many. Another disadvantage is that cocktails can be high in sugar, from both the simple syrups used to sweeten them and the alcohol itself. For those who do not drink alcohol, a mocktail is a delicious and equally festive alternative.
Getting Into the Mocktail Mix
I began mixing mocktails in early 2018 when I decided to go alcohol-free. It wasn't a New Year's resolution; I was not "sober curious"; nor was I joining the growing Dry January movement that had started in 2014 in the UK.  That January, I had decided it was time to make changes and move on to the next phase in my life. Selling my home of 23 years was part of the plan.
If you have ever sold your home, you know that the physical and emotional work is stressful.  As a procrastinator, I knew I had my work cut out for me, and I was concerned that this endeavor was going to drive me to drink, literally. In turn, that would only slow the process down: I had learned that drinking alcohol slowed my mind as well as my movements, which I could not afford at this demanding time. If I was going to have any chance at success, I would have to go cold turkey. 
The seed of inspiration for going alcohol-free had been planted several months earlier, when a colleague of mine, Jennifer Rajala, took on an "Alcohol-Free Summer Challenge" on Facebook. I honestly thought that she was setting herself up for a summer filled with deprivation and no fun. She documented her journey on Facebook, sharing videos of herself mixing mocktails. I was delighted to see that she was clearly having lots of fun, not to mention that her skin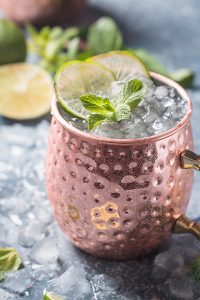 was glowing.
Truthfully, I was curious. I had done an elimination diet in the past. It required avoiding several foods as well as alcohol, but that was only for 30 days at a time to reboot metabolism. The result was better sleep, more energy, and some weight loss. Still, a whole summer without my favorite cocktail, the Moscow Mule, didn't hold any appeal.
I needed a bigger incentive to inspire me to take on such a challenge, which came when I met with the realtors that January. They walked through my house, with piles of memories of the last 23 years tucked away in every corner. The realtors said that it would take at least a year to declutter the house to prepare it for market. I was adamant that the house would be ready sooner, and with my desire to move quickly, I needed a clear head and laser focus. I now had incentive to go alcohol-free, at least for the time it would take to prepare my house for market.
For those who do not drink alcohol, a mocktail is a delicious and equally festive alternative.
I made my decision based on knowing that, with age, my body had become more sensitive to the effects of alcohol. A couple of glasses of pinot noir with dinner would result in a restless night's sleep and foggy thinking the next day. I was also aware that steady alcohol consumption could lead to weight gain. In contrast, not drinking alcohol would likely result in a variety of benefits, including improved sleep and concentration. But would this task be doable?
In January, avoiding my favorite cocktails was easy, as it was wintertime. But I had grown accustomed to having a glass or two of pinot noir with dinner. Giving that up would be challenging, because I found the process of decluttering very stressful, and the glass of wine at the end of the day was something I had looked forward to. 
Fun With Fizzies
I was determined to stay focused. As an Arbonne consultant since 2013, I had access to a variety of vegan supplements that provided me with nutrients and antioxidants. One supplement in particular helped keep me on task: the Energy Fizz Stick. Better known as a "Fizzy," this powdered drink is formulated with Vitamins B6 and 12, chromium, coenzyme Q10 and green coffee bean extract. When mixed with water, this powder fizzes—hence the name—and becomes a refreshing and energizing drink. So Fizzies (or just a glass of plain water) replaced pinot noir at dinnertime.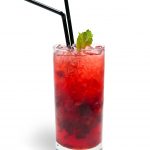 By the time spring rolled around, the house was decluttered and we were down to painting and making minor repairs. But as warm weather approached, I yearned for my beloved Moscow Mule. The cool, spicy, sparkling drink with a hint of lime screamed summer to me, but I had come too far to be sidetracked and stuck to my Fizzies. Still, I craved more variety (at the time, Fizzies came in only two flavors) and fun.
Then I remembered my friend's mocktail videos. Inspired by her creativity, I concocted some of my own. In my early days of mixing mocktails, the Fizzies provided the sweet and carbonated base, a key element in mocktails. The fun part was experimenting with different fruits and herbs to enhance the fizz drink. These refreshing drinks kept me energized and focused, and the house was ready for market at the end of May of that same year. What's more, it sold in ten days!
To Drink or Not to Drink?
I felt a great sense of accomplishment, not only for being able to abstain from alcohol for several months, but also for being able to tackle the monumental task of decluttering a house in a fraction of the time that the professionals had estimated. I felt so good that I wanted to remain alcohol-free. What this would mean socially? I wondered.
Drinking alcohol is a social norm. Or so I thought until I read an article online entitled "Inside the Growing Trend of Low- and No-Alcohol Beverages" by Taylor Dunn for ABC News. In her 2019 article, Dunn reported that the non-alcoholic beverage market was expected to reach over $1.6 billion in sales by 2024. Furthermore, Dunn noted that conversations regarding low- and no-alcohol consumption on social media were on the rise, while conversations regarding casual and heavy alcohol drinking had significantly declined. Author Dunn quoted Devon Bergman, CEO of Social Standards, a consumer analytics company, who credited this shift to consumer focus on health and wellness. 
My friends supported my decision. Many of them embrace healthy lifestyle choices, and I peaked their interest in mocktails when I started to post pictures of them on my social media. I haven't convinced anyone to go alcohol-free (yet!), but you might consider having a mocktail with dinner, instead of a glass of wine, from time to time.  It would be a great alternative that is fun, delicious, and beneficial.
. . . . you might consider having a mocktail with dinner, instead of a glass of wine, from time to time.
Whether you are choosing to go alcohol-free or looking for a new tasty and  festive drink to enjoy, there are a few key elements that go into mixing mocktails. The ingredients must be fresh, bold tasting, and varied to add complexity to the drink. Herbs, spices, freshly squeezed fruit juices, acidic juices, and sparkling water all add layers of flavor. When these are poured into a cocktail glass over ice and garnished, they will compete with the taste and presentation of any alcoholic cocktail.
While the taste of ginger ale in the Moscow Mule is still my go-to summer flavor, I also crave the taste of summer fruits like watermelon and pineapple in my mocktails.  Below I share three of my mocktail recipes using these summer favorites. Two recipes call for Arbonne products; however, I have included substitutes for these items. Perhaps these recipes will inspire you to try mixing mocktails on your own. Enjoy!
Reyna's Mocktail Recipes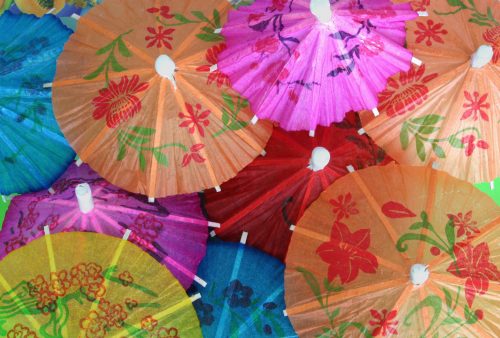 Watermelon Daiquiri Mocktail (serves 2)
Ingredients
1 cup watermelon, chopped into chunks
1 lime: juice one half and cut two round slices from the other half for garnish
4-6 ice cubes
6 oz water
1 packet Arbonne Energy Fizz Sticks, pomegranate-flavored *
2 oz sparkling water 
2 paper umbrellas (optional, but highly recommended!)
Instructions
Blend the first 4 ingredients to a slushy consistency. Pour the Fizz Stick into the blender and pulse to blend into the slush. Pour into two wine or cocktail glasses and add 1 oz of sparkling water to each glass. Garnish with the lime rounds and paper umbrellas.
*If you don't have the Energy Fizz Sticks, substitute with 1 oz pomegranate juice, up to 1 tbsp of simple syrup, and extra sparkling water.
Piña Colada Mocktail (serves 2)
Ingredients
1 cup frozen pineapple chunks
6 oz pineapple juice (use water instead to reduce the amount of sugar)
4 tbsp coconut cream
¼ tsp vanilla extract
dash of cinnamon
2 cherries (for garnish)
Instructions
Blend all ingredients. Pour into two cocktail glasses. Garnish with cherries.
Herbs, spices, freshly squeezed fruit juices, acidic juices, and sparkling water all add layers of flavor.
Moscow Mocktail Mule a la Reyna (serves 2)
Ingredients
8 oz iced herbal tea (Arbonne's Herbal Detox Tea is perfect)
2 tsp freshly grated ginger (or more if you want that mule to kick!)
1 lime: juice one half and cut two round slices from the other half for garnish
6 mint leaves: 3 finally chopped and the other 3 for garnish
1 packet Arbonne Energy Fizz Sticks, citrus-flavored **
2 oz sparkling water
**If you don't have the Energy Fizz Sticks, substitute with the freshly squeezed juice of half an orange and up to 1 tbsp of simple syrup.
Instructions
Combine the first 5 ingredients in a cocktail shaker (a large shaker cup can be used instead) and shake up carefully (the Fizz Stick is carbonated). Strain the liquid into two cocktail glasses filled with ice cubes. Add 1 oz sparkling water to each glass. Garnish with the remaining mint leaves and lime rounds.
---
A certified yoga teacher, Reiki Master, and an Independent Consultant with Arbonne International, Reyna Gonzalez enjoys sharing her love for healthy living. Reyna feels that while quarantine restricted her from her favorite activities, it did offer her a special time of reconnecting with her two sons and partner David. When restrictions are lifted, Reyna is looking forward to going back to playing tennis and dancing tango. You can contact Reyna through her website, ReynaGonzalez.Arbonne.com.

Photo credits: Summer Cocktails: ID 68575061 © Aas2009 | Dreamstime.com; Moscow Mule Cocktail:  ID 101989267 © Petr Goskov | Dreamstime.com; Lemonade With Fruit: ID 19725660  © Zybr78 | Dreamstime.com; Asian cocktail umbrellas: ID 534898 © Kmitu | Dreamstime.com

Tuesday, August 25th, 2020