Treat yourself (or someone you love!) to a relaxing at-home foot soak
by Reyna Gonzalez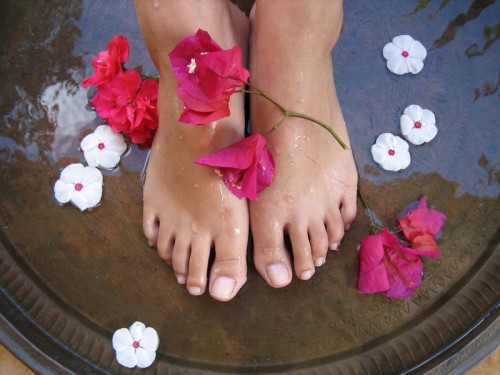 As a yoga teacher, I've watched students scrutinize their feet, wiggling and pulling at their toes in Uttanasana (standing forward bend). I've done the same, and I admit that I have occasionally assessed my need for a pedicure while in Uttanasana. I'm not vain about my feet, but as a teacher, I know that my feet get looked at, and I want students to focus on alignment, not grooming. Most people think of a pedicure as a treat, but not me, as I have extremely sensitive feet. For me, the real treat is the foot soak part of the pedicure process. 
I love submerging my feet into the warm, swirling water as I sit back in the vibrating chair that massages my back.  I know that the true sense of relaxation is coming from the warm salt bath that is soaking and soothing my feet, so when the nail specialist removes one foot to begin the grooming part of the pedicure, I always feel rushed. Good-bye, relaxation. That is why I decided to develop a deeply relaxing foot soak that could be easily done at home.
Not for Feet Only
Foot soaks are not just for relaxing the feet. They have been part of healing practices in Asian and other cultures for thousands of years. In her article "Sole Wisdom: The Benefits of Ayurvedic Foot Massage," published on the Yoga International website in 2013, writer Dakota Sexton notes that in some ancient spiritual traditions, the body and soul were perceived as connected to the soles of the feet. "The ancient healing traditions of China, India, and Egypt also recognized that the feet serve as mirrors of our overall well-being," she writes.
In an interview in Yoga Journal, Melanie Sachs, author of Ayurvedic Beauty Care, notes that foot massage (followed by a relaxing foot soak) can relieve eye strain, which will relax and open the face and allow our inner beauty to blossom. Article author Niika Quistgard points out that Sachs's words are supported by a classical Ayurvedic text (the Ashtanga Hridaya) that identifies four major nerves in the feet that connect to the eyes.
Every day we are subject to a host of toxins from the air we breathe (both indoor and outdoor), the foods we eat, and what we put on our skin, which is the largest organ in our body. There are many ways to limit our exposure to environmental toxins, including detoxing diets, calming practices like yoga, and using household cleaners and personal care products that contain more healthful ingredients. But at the end of the day, a relaxing foot soak may be the easiest and most soothing pathway to removing some of the toxic burden from our body. 
Get Salty
Because salt water reminds me of how relaxed I feel after a long walk along the beach, I was inspired to develop a foot soak that contains products formulated with marine botanicals. The ocean-inspired detox soak outlined here is easily done at home and requires very few tools. I recommend that you use products that are not tested on animals and that are made without harmful chemicals. You can find several "DIY" recipes on the Internet that use simple ingredients like Epsom salt and essential oils to enhance your foot soak. I prefer to use ready-made products like Arbonne's SeaSource Purifying Sea Soak, which contains mineral salts and trace elements. (Its clean smell reminds me of the sea!)
The ocean-inspired detox foot soak outlined here is easily done at home and requires very few tools.
For your relaxing foot soak treatment, you will need the following: 
Large Basin (big enough to accommodate both feet)
Bath brush
Epsom salts or a product that contains sea salt  
Massage oil or lotion
Large towel 
If you want to follow your foot soak with a foot scrub and a mask, you will need a few additional items:
Salt scrub
Clay mask
Plastic roasting bag or plastic wrap
Ribbon
You can make your own salt scrub or use a packaged product. To make your own, mix ½ cup of oil (like avocado or sweet almond oil) with 5 to 15 drops of an essential oil and 1 cup of sea salt (or sugar if you have sensitive skin). This will yield enough scrub for several sessions. My favorite packaged scrub is Arbonne's Foaming Sea Salt Scrub, which helps exfoliate the skin.  If you want to add a clay mask to your foot treatment, I recommend choosing one made with bentonite or Montmorillonite clay, which contains volcanic ash and is regarded for its cleansing and healing qualities. (My favorite is Arbonne's Sea Mud and Face Body Mask.)
Soak Away Your Troubles
Before you start your soak, scrub your feet with the bath brush to stimulate the skin. Then, mix warm water and ¼ cup of sea salt in the basin. Soak your feet in the warm salt mixture for up to 30 minutes. (To keep the water comfortably warm, keep a pot of boiled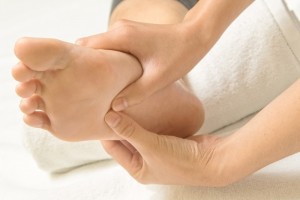 water close by and add to the basin as needed.)
Sit with a cup of herbal tea, or use this time to practice some pranayama or meditate.
You can end your foot soak after the 30 minutes and move on to drying and massaging your feet, but I prefer a little more pampering first. After the soak, scrub your feet with a salt scrub. Feet certainly feel softer after the soak, but using the salt scrub helps to exfoliate the skin. Next, rinse your feet in the same soak water. Empty the basin, refill with hot water, and put aside.  
The next step—also optional—is my favorite! Apply a clay mask to your feet. Then place both feet into a roasting bag (or wrap the feet individually with plastic wrap) and tie the bag around your ankles with a ribbon. As with a face mask, you can feel the mask dry against the skin, and you can imagine the toxins being drawn out of your skin and into the clay!
Have some more tea, meditate, or do a little more pranayama.  After 15 minutes, wash off the mask in the basin and dry your feet with the towel.
Finally, massage your feet with a little massage oil or lotion. Take your time with this part of the treatment. Rub each toe individually from the base of the toe to the top. Then make a fist with the opposite hand and apply the desired pressure to the foot, starting at the toe mound and slowly moving down to the heel. You can also use your fingers to explore sensitive areas of your feet, applying gentle pressure to alleviate any soreness.
After the massage, sit quietly with your eyes closed for a few more minutes and notice how warm, smooth, and alive your feet feel. Then notice how relaxed the rest of your body feels. If the feet are truly the "mirrors of overall well-being," then this at-home treatment should leave you feeling that pampering your feet is worth the effort, both physically and spiritually.
---
A certified yoga teacher, Reiki Master, and an Independent Consultant with Arbonne International, Reyna Gonzalez enjoys sharing her love for healthy living. In her spare time, Reyna enjoys tennis, tango, and spending time with her two sons and life partner David. You can contact Reyna through her website, ReynaGonzalez.Arbonne.com.
Photo credits: relaxing foot bath © Ye Liew | Dreamstime.com; foot massage © Pleprakaymas | Dreamstime.com
Tags: relaxing foot soak