Yoga & MELT® Method Classes With Louise
In-person classes:
Register NOW for Scarsdale Adult School (SAS) Spring 2023 session!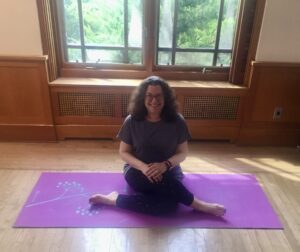 Essential Yoga for SAS
Gentle Yoga for SAS
MELT Method for Enhanced Stability & Mobility for SAS
Virtual classes:
Essential Yoga on Zoom (Tuesday evenings, 7-8:15 pm) 
Restorative Yoga on Zoom (Sundays, 11 am-12:15 pm) 
Gentle Yoga on Zoom for Scarsdale Adult School
Private Instruction (Zoom or in-person)
I offer private Hatha yoga sessions at beginner through intermediate levels (including specialty classes in Restorative Yoga, Yoga for Osteoporosis, Restorative Yoga, Gentle Yoga, and Chair Yoga) and instruction in the MELT Method Hand and Foot Treatments and MELT roller moves. Pricing starts at $90 for a 1-hour session on Zoom, and at $100 for a 1-hour in-person session. For more information on rates and availability, contact [email protected].