Louise Fecher, E-RYT

®

 200, YACEP

®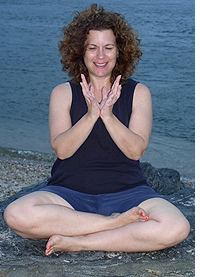 Back in the 1970s, as a high school student, I came across a yoga program on public television and watched it regularly after school. I discovered that I was naturally flexible, and became more so with yoga practice. While in college, I signed up for yoga classes through The Open Center and other venues in Manhattan. When my husband and I moved to Yonkers in 1998, I found an award-winning, community-oriented studio, Yoga Haven, in nearby Tuckahoe, and began taking classes there, first with Jill Ganassi and then Ann Casapini, both inspiring teachers.
In 2004, I was accepted into the 200-hour teacher training program developed by Yoga Haven's founder, Betsy Kase. I began student teaching (with an early focus on chair-based yoga for seniors) and completed the training in 2005. That same year, I registered with Yoga Alliance and began teaching in several Westchester locations, including Yoga Haven. Since then, I've continued my studies through workshops and trainings in Westchester and Manhattan. In 2007, I was certified to teach Restorative yoga by Judith Hanson Lasater; that same year, I completed a prenatal yoga teaching program taught by Janice Clarfield. In 2009, I studied advanced Restorative yoga with Judith Lasater at Om Yoga. In 2015 I completed Reiki 1 training with Reyna Gonzalez, and in 2016 I was certified by Dr. Loren Fishman to teach his Yoga for Osteoporosis method. 
I have taught at senior centers, schools, corporations, and healthcare facilities. I could teach in the middle of a shopping mall if I had to–yoga works anywhere! My students have included seasoned practitioners and novices, eager teenagers, and savvy seniors (both active and sedentary). I enjoy helping my students improve their flexibility, strength, balance, and body awareness. Most important, I hope my students leave class feeling relaxed and ready to share a smile.