A New York yogini finds her focus in the beauty of plants and flowers
by Alana Cohen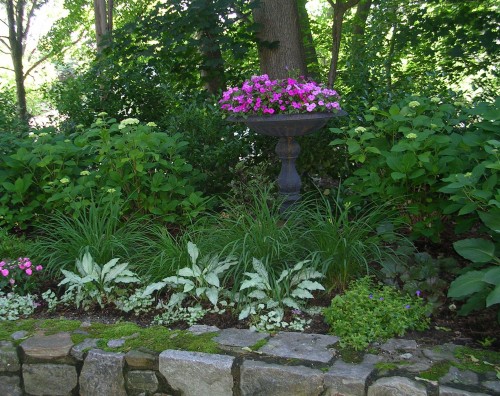 One of the author's garden designs
Summer is the perfect season to embrace the beauty of the great outdoors. Plants and flowers are abundant, delighting our eyes with color, shape, and texture. Whether you have a deck dotted with planters or a backyard garden to view, now is the time to drink in the beauty.
For me, there's nothing more satisfying than being surrounded by beautiful flowers. My passion for garden design was launched in the early 1990s during many visits to The New York Botanical Garden with my young children. My sense of color, composition, and scents were ignited, and I began to see suburban gardens and parks with new awareness. I started taking classes at the Botanical Garden, earning a certification in garden design. My studies further heightened my awareness, opening my world view to one of creating beauty.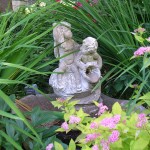 When I'm planning a garden for one of my clients, my concentration is fully focused in the moment, as in my yoga practice. I look at each plant as a whole, considering its color, texture, and height. Does the color affect my mood? And if so, how? Do I like the shape of the leaves? How will one plant work in combination with another?
No distractions interrupt my train of thought when I'm creating a garden palette. It's as if I'm on my yoga mat: my intent is all encompassing. Just as the individual poses in a yoga practice work together to help my body find its optimal balance, each plant that I choose contributes its unique qualities to a beautiful whole.
When you choose flowers for your own garden, think about the affect you want to achieve. Do you want the floral display to provide visual excitement, or would you prefer to be soothed? Do soft pastels relax you? Do jewel or hot tones excite, or irritate? There are no rights or wrongs when choosing a color palette that pleases you.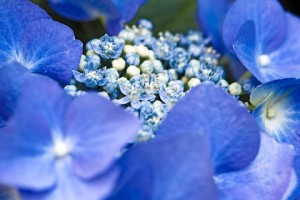 Blue lacecap hydrangea
If you want your garden to be a soothing vision of soft pastels–and if your planting area is sun drenched–I recommend including pale-pink mallow, white phlox, and Russian sage, which has blueish/lavender flowers. Combine these perennials with light-pink Knock Out® roses for a constant show of color that will last until winter frost. (Knock Out roses are wonderful shrubs that I use often in my designs; they are beautiful, low-maintenance, and disease-resistant.)
Does your garden have more shade than sun? Then you can enjoy the beauty of long-blooming hydrangeas. There are many varieties: you might opt for the soft blues of Endless Summer hydrangea; lovely lacecap hydrangea, which comes in pink and blue shades; or the pure white blooms of Annabelle hydrangea. Compliment your hydrangea selections with pink or white astilbes and lemon-colored lady's mantle.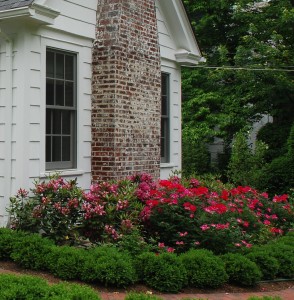 If, like me, you enjoy rich, jewel tones in your garden, you can create that palette with the same plants I suggested above: except for the Russian sage and lady's mantle, all of these plants are available in deep pink and red shades. (The side garden shown here, which I designed for one of my clients, includes bright pink/red Knock Out roses.)
No matter what kind of garden or plant grouping you put together, I hope you discover that creating beauty is both satisfying and uplifting. Gardening, like a yoga practice, poses challenges. I certainly have learned from my own yoga practice–and my garden designs–what works and what does not. Enjoy the learning process (if you're new to gardening, see Green Thumb Basics, below) and Happy Planting!
Green Thumb Basics
Salute the sun When planning a garden, the most important question is how many hours of sunlight do you get in the area where you want to plant. Full sun? Partial sun? No sun? Choose plants accordingly.
It's great to hydrate Planters dry out quickly, so give them regular attention. For the garden, I recommend a drip sprinkler system. Flowers thrive better if watered from the root.  A drip sprinkler system can also be put on a timer to ensure the plants get watered without the worry. If you don't have a sprinkler system, you can purchase a hose with holes in it to use on the desired area.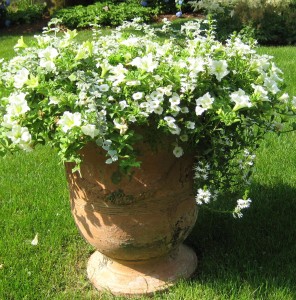 Sun-loving annuals in an antique planter
Make annual resolutions Planting annuals when perennials are finished provides a continuous display of color. Some of the annuals that I enjoy with great success year after year are sun-loving lantana, cleome hassleriana, calibrachoa, angelonia, cosmos, and petunias. Shade-loving annuals include impatiens, tuberous and wax begonias, and the dramatic leaves of calladium, which come in a variety of colors.
Be a deadhead Remember to cut the spent flowers so your arrangement continues to provide a great show until frost.
---
Alana Cohen received her certification in garden design at The New York Botantical Garden. She has enjoyed creating and rejuvenating gardens in Westchester for the past 15 years, and believes in the healing powers of both gardening and yoga. You can reach Alana Cohen Garden Design at (914) 589-2345.

Garden and planter photos © Braeden Cohen; Blue lacecap hydrangea photo © Moonbloom | Dreamstime.com

 

Thursday, July 5th, 2012