Nothing spells yoga to me like a sink full of dirty dishes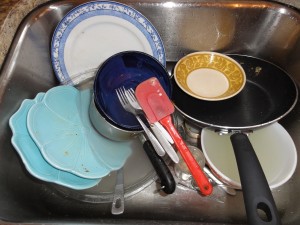 To open my yoga classes this week, I've been asking students to think about a chore they enjoy: a mundane, simple task that you do regularly and actually like. Think about what supplies you need to get the job done, and what you focus on while you're doing the task. Consider, too, how you feel with the chore is done–reflect for a moment on your shiny, clean results. 
When I do a chore I like–such as washing dishes–I can feel fully rooted in the moment. I focus on the simple, repetitive movements of sudsing the sponge, scrubbing the dish, rinsing with clean water.  It's a time to set aside the wouldas, couldas, and especially the shouldas, and focus on the task at hand. And how I love the gleam of a clean plate, and seeing all the glistening items stacked neatly in the dish rack for drying. 
Maybe it's the tangibility of completion that is so satisfying. So much of what we do at work and in our lives doesn't yield results we can see, and the road to completion is long. Web sites take months to design; sales goals might only be met at the end of a year. And then there's always another project or goal on its heels. A clean plate is more finite–I did what I needed to do, and now I can rest.
For me, yoga practice is a bit like washing the dishes. As I mindfully go through each move in each asana, I can remain in the moment: rooted on the mat, present in my mind. Distractions don't matter. And at the end, I feel all shiny, just like that gleaming, squeaky-clean plate. 
I invite you to think about a chore that you enjoy. Washing windows?  Weeding your garden?  Think about the satisfied, peaceful feeling you receive at the end of your task, and savor that feeling for a while.
 And if by the way your favorite chore is dusting, give me a call: I have a shelf full of tchotchkes waiting for you.