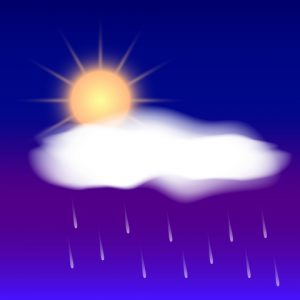 Was it raindrops that I felt against my skin? This morning, walking to my car after teaching my seniors yoga class at Sinai Free Synagogue in Mt. Vernon, I felt a few wet drops tap my arm. With the sunshine burning bright overhead, my first thought (typical New Yorker) was that I had been christened by a bird. But, no, as more refreshingly cool drops dotted my skin, I knew it was a sun shower (or, more accurately in this case, a sun sprinkle).
A long-ago favorite refrain singsonged in my head: "Sunshower just the sign of the power, of loving you, oh baby!" (An old classic 70s disco tune from the innovative Bronx-born group Dr. Buzzard's Original Savannah Band.) On the drive home, with crystal drops dotting my windshield, I sang the tune ("Ooh, my whole life through, I've been walking in the rain; until that day, I chanced on you. And the sun came pouring down too …"), filling in forgotten lyrics with hums. There's something a bit magical, and musical, about the contrast of a sunny sky and light cool touches of raindrops.
Our yoga practice offers magical contrasts of its own: stretching long and firming taut; expanding and condensing; steady, strong effort and deep-down delicious relaxation. All companion opposites, joining together in a beautiful and powerful dance. 
When I pulled into my driveway, the rain still dotted my windshield and the sun still shone. Then, as magically as the sunshower began, it ceased. I hope that you find some magic today in your yoga practice and beyond, whether you are walking in the rain, in sunshine, or both.