Saying goodbye to a special lady
Yesterday, we said goodbye to Mollie Vogel: yogi, friend, wife, mother, teacher, role model. Nicknamed "the mayor of Mount Vernon," by the many people whose lives she gently touched, Mollie passed away on Tuesday, a little more than one month after the celebration of her 95th birthday.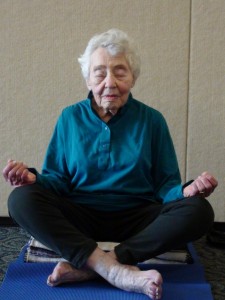 I was lucky to know her, luckier still to be one of her  yoga instructors. I was the last teacher she worked with during her 50+ years of dedicated yoga practice. I'm sure I learned more from her than she did from me.
Mollie's memorial service was held at Riverside Memorial Chapel in Mount Vernon. The rabbi who lead the service described Mollie as "a woman of excellence," or "eshet chayil" in Hebrew. Loving, smart, and stubborn, she raised four children with her husband, Seymour Vogel. In her 40s, after the couple's children were grown, Mollie obtained a driver's license so that she could return to school to earn a college degree.
Mollie worked as a nursery school teacher for many years. Following her retirement in her late 70s, Mollie remained active in every sense of the word: politically, intellectually, spiritually, physically.
While I can tell you tidbits about Mollie–that she volunteered in a local soup kitchen; that, as a yoga ambassador, she accompanied me to a senior home to encourage the residents to practice yoga; that she had an amazing om (click here to read an article about Mollie)–I am not adept enough with words to express all that she meant to me. I see Mollie as a spiritual warrior, a woman who walked a path of peace with strength and dignity.
I hope I can walk a similar path to Mollie's, and that I can keep up with her. Because I think that somewhere, perhaps on a yoga mat in heaven, she's doing one awesome downward-facing dog.