The author helps area residents rejuvenate their yards after Hurricane Sandy
by Alana Cohen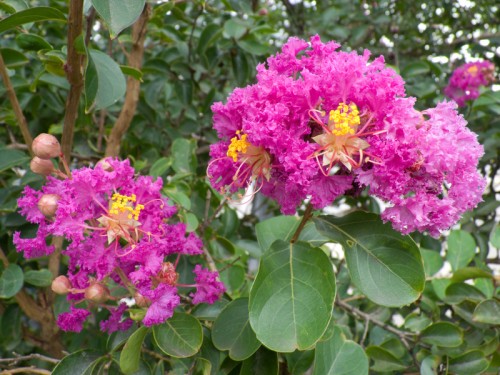 Flowering crepe myrtle
After the destruction caused by Hurricane Sandy in our area last year, I was contacted by several Westchester homeowners who needed a gardening rebirth. Their requests were different from the design projects I've received in the past: these clients had just lost mature, exquisite trees (often damaging their homes as they fell) that had offered both beauty and privacy. They were left feeling wide open to the world, and were mourning the loss of their statuesque anchors.
Sandy's Sobering Statistics
Hurricane Sandy was the second costliest hurricane in US history and the largest storm of its kind to hit the East Coast, where it took over 150 lives and destroyed or damaged 650,000 homes. Next to these tragedies, the loss of trees may seem trifling. Yet trees graciously offer us humans shade in the summertime, shelter during the rain, and solace and beauty all year long. For animals and insects, trees provide sustenance, protection, and a place to build a home.
In Westchester County, Hurricane Sandy was as cruel to our leafy friends as she was to us. Thousands of trees were toppled in our streets, yards, and parks. Rye Nature Center and Franklin D. Roosevelt Park in Yorktown lost over 100 trees each. In Ward Pound Ridge Reservation, Sandy's wicked winds destroyed an entire pine forest of 1,000 trees.
The loss of a tree cannot be compared to the loss of a human life, yet our trees are some of our oldest friends, and we  miss them when they've gone.
                  -Louise Fecher
I was struck by my own sadness over their losses, knowing that the magnificent and mature specimens that were destroyed by Sandy can never be replaced in our lifetime. But the challenge to me as a garden designer is to provide my clients with new and exciting opportunities. Loss can open up possibilities. In the garden, that can mean beautiful flowering ornamentals–deciduous trees with stately presence and exciting autumnal color–as well as evergreens to provide privacy.
A lovely older couple who reside in Mamaroneck lost a magnificent mature hemlock during Hurricane Sandy. The tree was a work of art, and so large that it took up a big piece of their backyard. As wide as it was tall, the tree was defining to the property. For years, it had buffered the couple from noise and turned their yard into a private sanctuary.
"Loss can open up possibilities. In the garden, that can mean beautiful flowering ornamentals  .  .  . as well as evergreens to provide privacy."
As sad as the loss of this stately evergreen was (the tree had also fallen on the house), I began to see it as an opportunity to offer my clients some fun alternatives. Instead of replacing the hemlock, I suggested we plant a different evergreen: a leyland cypress.
I explained to the couple that this tree would grow, but not get as large–nor eat up as much property space–as a hemlock. (Fully grown examples of the leyland cypress are shown at left.) With this tree, the homeowners would have less shade in their yard, and their vegetable garden would no longer have to struggle for sunlight. 
One of my longtime clients, a resident of Edgemont, was hit hard by Hurricane Sandy. He has a large property with many mature, majestic trees. Some of the trees in his front yard came down in the storm, with one humongous tree crashing right on the center of his house.
His refurbished front yard now includes a fantastic flowering ornamental tree–the crepe myrtle–which I placed at the corner of the house. The crepe myrtle has an interesting, spotty bark and tiny crepe paper-like flowers in pink and purple. (The image at right shows the beauty of the crepe myrtle's bark in wintertime; in contrast, the tree's flowers are shown in the picture at the top of the page.) One of the many great things about this tree is that it blooms in late summer when nothing else is blooming. 
The crepe myrtle is an extension of my Edgemont's client's new front foundation plantings, which I had to replenish after Hurricane Sandy. Keeping in mind that foundation plants need to look good year-round–and that this homeowner's front yard is a low-light area–I blended evergreen shrubs of varying shapes to provide both interest and a neat structure to the house, as shown below.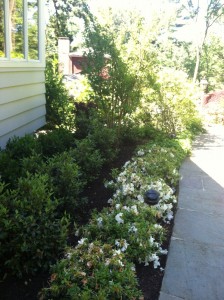 Flower bed in Edgemont
The foundation bed, which is very long, begins with a weeping English repandens yew, followed by two layers of flowering evergreen shrubs (including the cherry laurel) as the bed gets wider. This is all mixed with white azalea for spring flowering. As he bed widens further, I added olga mezzit–which is a small-leaved rhododendron with deep pink flowers–and the crepe myrtle with its multi-season interest. The foundation bed will provide a succession of bloom from the spring through the end of summer, and who doesn't like that?
Despite their losses, the homeowners I worked with post-Sandy were fortunate to be able to replace and rebuild. I marvel at their resilience and their ability to "weather the storm."
Tips for a Garden Reboot
Does your garden needs rejuvenating? Think first about your available lighting–that will
guide you to picking plants that will thrive. Remember to consider the tree or shrub's ultimate growth so that your new plantings have the full ability to spread gloriously. And keep in mind the tree or shrub's special qualities throughout the seasons: will it produce color in the fall or interesting bark in the winter months?
Water regularly for the first year of growth to help establish roots. Happy planting!
-Alana Cohen
---
Alana Cohen received her certification in garden design at The New York Botanical Garden. She has enjoyed creating and rejuvenating gardens in Westchester for the past 15 years, and believes in the healing powers of both gardening and yoga. You can reach Alana Cohen Garden Design at (914) 589-2345.
Photo  credits: flowering crepe myrtle © Sergio Schnitzler | Dreamstime.com; leyland cypress © Anthony Baggett | Dreamstime.com; flower bed  © Alana Cohen; winter crepe myrtle © Darryl Brooks | Dreamstime.com; leaves of cherry laurel © Moniphoto | Dreamstime.com