YogaBright Shopping
Handmade goodies for the discriminating yogini
If, like me, you have a magnet-like attraction to shiny objects, I think you'll enjoy seeing the items that will be offered here. I've been visiting crafts shows and shops for more than two decades, and will be presenting handmade items that make great gifts. Current offerings, designed exclusively for YogaBright.com, are eye-popping notecards made by Lynn Amos and beautiful beaded earrings created by Phyllis Schneider. To learn more about these artists, check out their bios below.
Item: Sunflower Power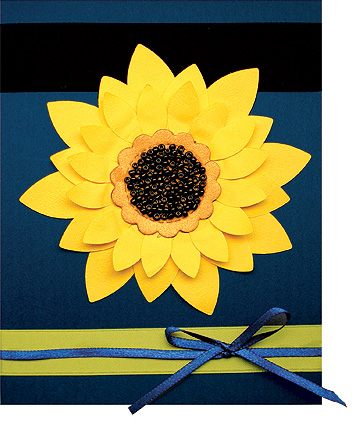 Handmade greeting card of Indigo 80 lb. card stock  embellished with golden yellow petals, satin ribbons, and glass beads. Created by Lynn Amos. Interior lined in white for easy writing. Available blank or with one of the following messages: Birthday Wishes, Good Luck, Get Well Soon, Thinking of You, Best Wishes, Thanks So Much.
Card measures 4.25" by 5.5"
$6 each (plus, if needed, $.75 shipping for one card) or save and select a set of 6 cards for $30 (plus $2.25 shipping if needed)
To order, contact louise@yogabright.com. Please specify quantity and message.
Item: Sealed With a Twist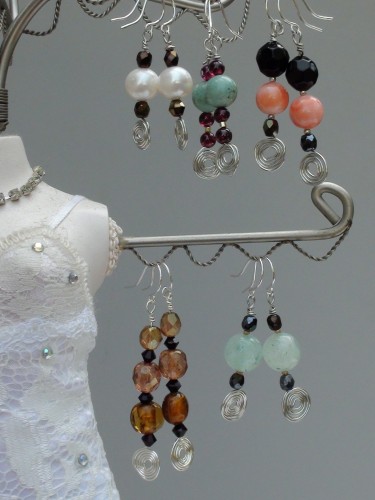 Finished with a whimsical flourish of sterling-silver wire, these handcrafted beaded earrings tease the eye with shimmer and shine. Created by Phyllis Schneider. Each pair is one-of-kind with a sterling-silver ear wire. $22 per pair. Currently available designs are shown below. (If you need your item shipped, provide your zip code when you order for a shipping quote.) To order, contact louise@yogabright.com.
Pearly White: Small dark-copper faceted glass beads contrast with large round freshwater pearls, about 1 1/8 inches long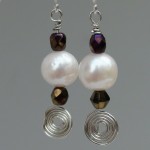 Luminous: Pale-green aventurine rounds paired with black glass beads and golden seed beads, about 1 1/4 inches long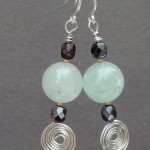 Ambience: Amber-toned Japanese and Czech glass beads, dotted with black Swarovski crystals, about 1 3/4 inches long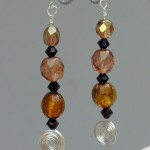 Artist Bios
Lynn Amos
A woman of many talents, Lynn holds a degree in Fine Arts from the University of New Mexico. She worked as an art director in New York City for more than 25 years, also designing and selling jewelry and other art pieces when time allowed. Eager to expand her creative offerings, she launched Fyne Lyne Ventures (www.fynelyne.com), a full-service Web site and graphic design marketing firm, in 2006. Her first offerings for YogaBright.com shoppers are handmade art cards graced with the site's sunflower signature.
Phyllis Schneider
An editor and writer by trade, Phyllis was the editor-in-chief and founding editor of magazine, a national fashion/beauty publication for young women; she was also a department head at Seventeen. When not working with words, Phyllis uses her creative energy to turn baubles and beads into delightful jewelry. Her first pieces for YogaBright.com shoppers are dazzling earrings with a twist ending!