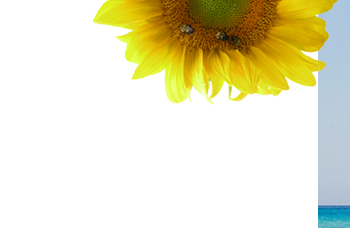 Louise's Blog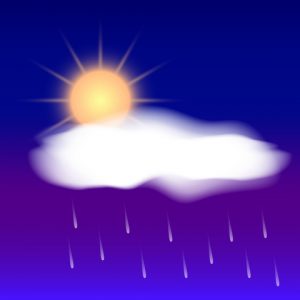 Was it raindrops that I felt against my skin? This morning, walking to my car after teaching my seniors yoga class at Sinai Free Synagogue in Mt. Vernon, I felt a few wet drops tap my arm. With the sunshine burning bright overhead, my first thought (typical New Yorker) was that I had been christened by a bird. But, no, as more refreshingly cool drops dotted my skin, I knew it was a sun shower (or, more accurately in this case, a sun sprinkle).
A long-ago favorite refrain singsonged in my head: "Sunshower just the sign of the power, of loving you, oh baby!" (An old classic 70s disco tune from the innovative Bronx-born group Dr. Buzzard's Original Savannah Band.) On the drive home, with crystal drops dotting my windshield, I sang the tune ("Ooh, my whole life through, I've been walking in the rain; until that day, I chanced on you. And the sun came pouring down too …"), filling in forgotten lyrics with hums. There's something a bit magical, and musical, about the contrast of a sunny sky and light cool touches of raindrops.
Our yoga practice offers magical contrasts of its own: stretching long and firming taut; expanding and condensing; steady, strong effort and deep-down delicious relaxation. All companion opposites, joining together in a beautiful and powerful dance. 
When I pulled into my driveway, the rain still dotted my windshield and the sun still shone. Then, as magically as the sunshower began, it ceased. I hope that you find some magic today in your yoga practice and beyond, whether you are walking in the rain, in sunshine, or both. 
Tuesday, September 19th, 2017
Rainy days can be dreary and make us feel weary, but I often find solace in the muted gray calm and the rhythmic sound of raindrops tap dancing on windows. A lazy rolling rumble of thunder in the distance only adds another tune to nature's soundtrack of serenity. For the earth and its habitants, […]
Tuesday, May 30th, 2017
You want ironin'? Ask Norma Rae. I'm terrible at it, even though I learned from an ironing guru, my grandmother Sophie Pottok. With hands made strong by years in the millinery trade, she would power-iron my father's shirts, slamming the iron down like a boss while keeping the fabric stretched taught with her free hand.
Sunday, February 7th, 2016
Never underestimate the healing power of your breath In a late July issue of The Journal of the American Medical Association, Dr. Elizabeth Levin shared a transformative journey, both personal and professional, that speaks directly to the heart of the yogi. In her fourth year of medical school, in a subinternship at Cook County Hospital in […]
Saturday, August 8th, 2015
Over the past month, our human family has watched a family of robins grow, beginning mid-May with a mated pair building a nest on a support beam beneath our deck. From stolen peaks at the birds' precious blue eggs (Mike peered down between the floor boards to see them) to the first appearance of a […]
Monday, June 15th, 2015
Saying goodbye to a special lady Yesterday, we said goodbye to Mollie Vogel: yogi, friend, wife, mother, teacher, role model. Nicknamed "the mayor of Mount Vernon," by the many people whose lives she gently touched, Mollie passed away on Tuesday, a little more than one month after the celebration of her 95th birthday. I was […]
Friday, April 17th, 2015
Cats do it, so can we Cats are born yogis. Acrobatic and agile, they can gracefully and gleefully eclipse the dazzling moves of a seasoned vinyasa practitioner. Restorative yoga? Cats invented it. Savasana?  Cats live it. To me, what is more impressive than the cat's innate physical yogic talent is her curly-clawed grasp of […]
Sunday, January 18th, 2015
In her own little corner, on her own little mat . . . What is your favorite Cinderella story? I really enjoyed Russell Crowe's Cinderella Man from 2005, but when I was kid, I was crazy about the 1965 television version of Rodgers & Hammerstein's Cinderella, which introduced a swan-necked Lesley Ann Warren as the title […]
Saturday, November 1st, 2014
If you feel the burn, it could be catching I heard the coyotes our first night in Montauk. It was more of a thin, reedy whine than a full-on howl, but I have no idea what a coyote call sounds like, so it seemed a good guess. I thought the sound was coming from the […]
Friday, August 29th, 2014
Celebrating the magic of springtime  After this endlessly woeful winter, seeing a long-forgotten piece of sidewalk emerge from the snow was a welcome first sign of spring. Even patches of plain old New York dirt were starting to look pretty darn festive. Here on the East Coast, the season has finally taken a firm […]
Sunday, April 6th, 2014
Hard to say, and even harder not to break When I was a preteen, I made New Year's resolutions by rote. "I will lose 5 pounds" was an annual staple (even though I wasn't overweight). Being nicer to my family made the list as well. I approached Confession much the same way. In the […]
Saturday, January 18th, 2014