Bossypants meets yogapants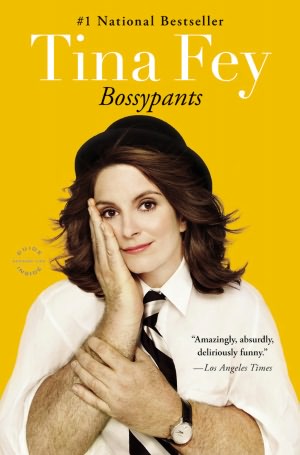 Does it make you feel uncomfortable when someone hands you a book and enthusiastically insists you read it? Makes me feel pressured and cranky, and I usually wiggle-worm out of taking the book any way possible ("I have a big pile of books waiting to be read already . . ."; "the contact lens for my third eye is damaged and I can't read for a while" . . .)
Recently, my wiggling didn't work, because my yoga teacher Karen Safire looked me straight in my third eye and said she thought the book in her hand–just returned from another student–would make me laugh. The hot book being passed from yogi to yogi in her class wasn't about yoga (take that, William Broad!), nor was it brand new. Bossypants (Reagan Arthur Books, 2011), penned by Tina Fey and published last year, is part humor, part memoir, and wholly wise. And, yes, it did make me laugh–from the first sneak peek (before yoga class) and every night that followed (so hard my husband thought I was coughing up a hair ball.)
In Bossypants, Tina touched on themes dear to my crankypants heart: anxiety, work frustrations, weight gain and self-image, parenting challenges, and being pissed off in general in a world that often still expects women to suppress their anger and never look harried. Tina's narrative is honest, ethical, and smart, and will have you nodding your head so much that it may, unfortunately, trigger neck pain.
Since Tina didn't offer any tips on improving Downward-Facing Dog that I can pass on, I thought I'd share a few of my favorite little somethings from her book:
Glamourous photos of thin celebrities are a crock and you should ignore them. While recounting her own celebrity photo shoot experiences (including being squeezed into a sizes-too-small dress that was left open in back for the photo), Tina advises: "Don't ever feel inadequate when you look at magazines. Just remember that every person that you see on a cover has a bra and underwear hanging out a gaping hole in the back. Everyone. Heidi Klum, the Olsen Twins, David Beckham, everybody."
It was Tina who wrote what is for me one of the most hilarious SNL commercial parodies ever–for "Annuale," the birth control pill that allows the modern, busy woman to have just one period a year ("that's all I have time for!"). For me, this skit is right up there with Colon Blow cereal and the classic Bass-O-Matic. Click here to view the skit on Hulu (don't blame me if you cough up a hairball).
Blondes really do have more fun. Tina writes: "Why do I call it 'yellow' hair and not 'blond' hair? Because I'm pretty sure everybody calls my hair 'brown.' When I read fairy tales to my daughter I always change the world 'blond' to 'yellow,' because I don't want her to thank that blond hair is somehow better." Unfortunately it didn't work: Tina admits that her daughter always left her reversible Sleeping Beauty/Snow White doll on her bed  Sleeping Beauty (blond) side up. Why? She told mom that she didn't like Snow White's hair. Sigh.
Thanks to the movie and fashion industries, no woman has permission to be happy with the way she looks. In the "All Girls Must Be Everything" chapter, Tina lists the many physical attributes women are supposed to have to satisfy today's insane beauty standards. The lengthy list includes (but is not limited to!) long Swedish legs, small Japanese feet, the abs of a lesbian gym
owner, the hips of a nine-year old boy, and the arms of First Lady Michelle Obama. Dream on, guys!

Ms. Bossypants got some of her best career advice from Grover. Is there a difficult person between you and what you want in your workplace? If so, Tina suggests that you model your strategy after "Over! Under! Through!" a classic Sesame Street song. Don't waste time trying to change opinions, she suggests. Instead, go over, under, or through your stumbling block. (I would add that practicing yoga can help make us flexible enough to do the over and under part.)

"Sleep when your baby sleeps" does not give new moms enough "Me Time." Tina writes: "Everyone knows this classic tip, but I say why stop there? Scream when your baby screams. Take Benadryl when your baby takes Benadryl. And walk around pantless when your baby walks around pantless." I wish someone had given me this advice when my son was a baby.

Another yogi is now reading the copy of Bossypants that was loaned to me, so I can't hand it to you and insist that you read it. I hope you find a bossypants yoga teacher who has the book and who's willing to pass on her copy. Don't worry: Tina Fey won't mind if you borrow the book rather than pay for it–she says so right in the book! And for this and many other reasons, I will always think of Tina Fey as Awesomepants.

Friday, September 7th, 2012