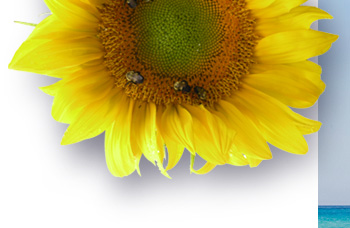 A sun-loving yogi (and former beach bunny) reminds us to stay safe in the summer sun
by Reyna Gonzalez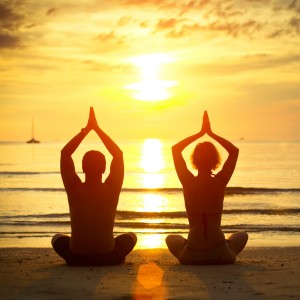 I love the sun! I love feeling the warmth of the sun's rays on my face, then feeling that warmth radiating down the front of my body.  Whether it's a spring day or noontime in the middle of winter, basking in the sun reminds me of my youthful, carefree days on the beaches of Massachusetts, when I thought nothing of slathering my body with baby oil to enhance the power of the sun.  
Beach Bunny Blues
Using baby oil and tanning lotions were common practices in the seventies. Back then, it seemed that thick, pasty sunscreens were only for people with fair skin. I don't recall my doctor ever telling me that I needed to protect my olive skin from excessive sun exposure.
One hot summer day on a beach on Cape Cod, I found out the hard way that my naturally tan skin was not immune to painful sunburn. After that, I became a little cautious about sun exposure. I followed some of the precautions that my fair-skin friends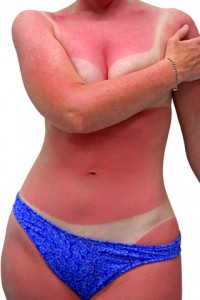 used, such as avoiding sunbathing at times when the sun's rays are the strongest (between 10 am and 4 pm). But I didn't like wearing hats, and still would not use sunscreen. It wasn't until years later, when I had my first child and wanted to protect his delicate skin, that I became aware of the dangers from overexposure to the sun.
That sunburn that I got as a teenager was skin poisoning, and even one bad sunburn can increase your risk for skin cancer. The warmth of the sun that I enjoy so much is from the sun's rays, or ultraviolet radiation (UV), the same radiation used in tanning booths. 
Rays of Our Lives
The sun's rays are classified by their wavelengths: UVA, UVB, and UVC. UVC is the most damaging of the three, but it doesn't reach the surface of the Earth. According to the Skin Cancer Foundation, UVA and UVB rays have both positive and negative effects. On the "bright" side, they are a source of Vitamin D, which is essential for strong bones and a healthy immune system. Conversely, these UV rays can lead to premature skin aging, eye damage (including cataracts), and skin cancer.  Although the ozone layer of the Earth's atmosphere absorbs UVA and UVB rays, its depletion leaves us more exposed.   
I was right about my olive skin having some natural protection against the sun: the more melanin (skin coloring pigment) in your skin, the lower your risk of developing sunburn. However, the National Cancer Institute warns that anyone, regardless of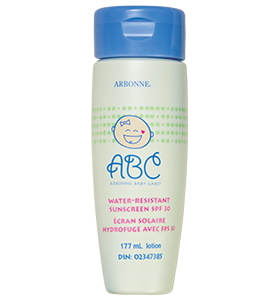 whether they are susceptible to sunburn, is at risk for skin cancer caused by the sun's UV rays. 
My days of carefree sun bathing on the beach have long since passed. I have not only embraced wearing hats, but also using sunscreen. As an independent consultant with Arbonne International (a maker of skincare products), I chose to add Arbonne Baby Care, a broad-spectrum SPF 30 sunscreen, to my sun protection regimen. There are many sunscreens available on the market, so choose the brand that seems best for you and your family. 
Pass the Sunscreen
In general, there are two types of sunscreen: chemical and physical. (Some sunscreens combine elements of both.) The overview below highlights key characteristics of both types. Note that while some watchdog groups have raised concerns about the long-term effects of some ingredients found in sunscreens, organizations like the Skin Cancer Foundation and the American Cancer Society maintain that the biggest danger our skin faces is exposure to the sun.
Chemical Sunscreens
Synthetic UV filters protect skin by penetrating the skin and absorbing the sun's harmful rays

Tend to be odorless and colorless with a thin consistency

Effective protection begins approximately 20 minutes after application

Active ingredients are chemicals such as oxybenzone, avobenzone, octocrylene, homosalate, and octisalate  

Cons: chemical ingredients may irritate sensitive skin; some research has linked chemical ingredients to cancer risk and hormone disruption

Brands include Banana Boat, Neutrogena, and Coppertone
Physical Sunscreens
Natural UV filters protect skin by coating the skin and blocking the sun's harmful rays

Tend to be thick, may leave a white tint on skin

Protect upon application

Active ingredients are the minerals titanium dioxide and zinc oxide 

Many brands certified as cruelty-free by LeapingBunny.org

Cons: concerns have been raised that extra-small "nano-particles" found in some of these sunscreens may ultimately penetrate and damage skin 

Brands include Aubrey Organics, California Baby, Block Island Organics, Badger (all these companies offer cruelty-free products)
Whether they contain chemical or physical ingredients, sunscreens with a Sun Protection Factor–or SPF–of 15 or higher are believed to do an excellent job of protecting against skin damage from UVB, the main cause of sunburn. A rating of SPF 15 means that the sunscreen filters out about 93% of all incoming UVB rays. An SPF of 30 filters out about 97% of the rays, but no sunscreen can block UV rays 100%.
Sunscreens labeled with the term "broad-spectrum" protect skin from both UVA and UVB rays. Per FDA guidelines, makers of broad-spectrum sunscreens with an SPF of 15 or higher may claim that their product helps protect against skin cancer and early signs of skin aging if used as directed with other protective measures.
Prevention Is the Best Medicine
While sunscreen is essential for skin cancer prevention, organizations like the American Cancer Society and the Skin Cancer Foundation emphasize that sunscreen alone is not enough. To stay safe, remember to incorporate the following steps into your skin protection regimen:
Limit sun exposure, especially between the hours of 10 am and 4 pm, when the rays are the most intense

In addition to using a sunscreen with broad-spectrum protection and an SPF of 30 or higher, protect skin from UV rays with long-sleeved shirts and a broad hat that shades the face, neck, and ears

Use UV-blocking sunglasses to protect your eyes

Beach bunnies, bums, and volleyball players should choose a sunscreen that's water-resistant, and be sure to reapply after swimming or excessive sweating

Don't forget to protect skin on hazy days, as UV rays penetrate the clouds
It's good to know that while I can no longer take basking in the sun for granted, I can take steps to protect my skin. Now that summer has arrived, I am looking forward to eating outdoors, taking walks, playing tennis, and perhaps spending a day or two on the beach. (And yes, I'll bring a hat!) By making sure I follow the recommended tips for safer sun exposure, I know that I can continue to enjoy the warmth of the sun that I love so much for years to come.
For Further Reading
For more information on the effects of UV rays, sun protection, and skin cancer prevention, check out the following resources:
The American Cancer Society: Be Safe in the Sun www.cancer.org 
The National Cancer Institute: Skin Cancer Prevention www.cancer.gov 
Skin Cancer Foundation: Skin Cancer Information  www.skincancer.org 
---
A certified yoga teacher, Reiki Master, and an Independent Consultant with Arbonne International, Reyna Gonzalez enjoys sharing her love for healthy living. In her spare time, Reyna enjoys tennis, tango, and spending time with her two sons and life partner David. You can contact Reyna through her website, www.reyna.myarbonne.com. 
Photo credits: beach yoga © Dimaberkut | Dreamstime.com; sunburned woman © Amy Walters | Dreamstime.com
Friday, June 20th, 2014
Put some twinkle in your toes with eight simple movements 
by Louise Fecher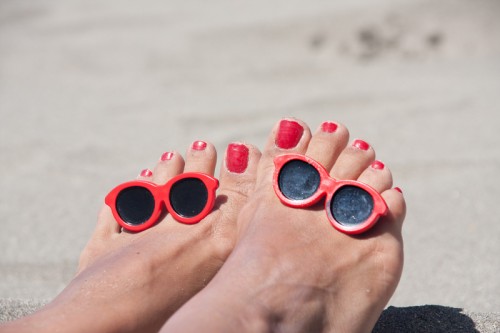 By the end of a long winter, even the comfiest socks feel like a toe prison. When the first sort -of-warm day arrived in New York a couple of weeks ago (before getting cold again

), I tossed my socks and slipped into open-toe espadrilles. Never mind the wind beneath my wings–the wind between my toes felt wonderful.
Do your feet crave a treat? Professional pedicures and massages are heavenly, but you don't need an appointment–or spare cash–to exercise your feet at home. I often include simple foot warmups and exercises, like those listed below, in my yoga classes. The following movements don't require props and are easy to follow; what's more, the whole routine can be done in 10 minutes.
Our feet, the ground floor of our body, work hard for us all day long. Exercising them not only keeps the feet happy, but also encourages strength and stability through our upper floors (the knees and hips) as well. So strip off the socks and get those tootsies moving!
1  Start warming up by slowing circling one ankle clockwise, making 3 full turns. Then circle 3 times counterclockwise. Repeat with your other foot. Take your time and notice any stiffness or other sensation.
2  Come back to your first foot and point the toes like a ballet dancer to stretch the top of the foot and front of the ankle. Then flex the ankle, pushing through the heel. Repeat this action 3 times, then switch to the other foot.
Do the Surprise Kitty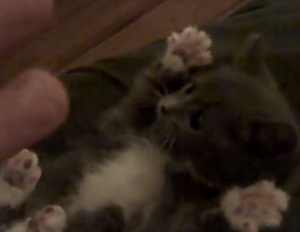 3  Wiggle the toes of one foot. Then slowly curl your toes toward the sole of the foot, as if making a fist with toes instead of fingers. Reverse this action by spreading your toes wide apart, as if they just got a surprise–whoopie! (Watch the adorable "Surprised Kitty" video if you need inspiration.) Repeat the Toe Curl/Surprise Kitty movements 2 more times, then perform the movements with your other paw foot.
The Yoga Handshake
Over time, our toes can bunch up like a snobbish clique of mean girls and refuse to make a move on their own.  One exercise that can help separate mean girl toes is the yoga handshake. Before you begin, you may want to rub hand cream on your feet and between the toes. This isn't necessary, but it may help you slide the fingers in between the toes, as directed below. 
4  Sit in a comfortable position that allows you to reach your feet easily. Hold the top of one foot with the same-side hand.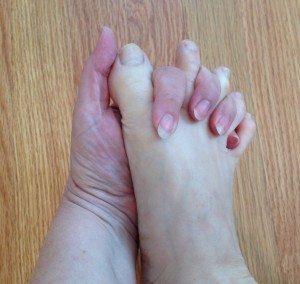 Working from the sole of the foot, slide the pinky finger of the opposite hand in between your little toe and its neighbor. Next, work your ring finger in between the second and third toes. Continue threading the fingers between the toes, leaving the thumb free. 
If your toes are very tight, you may not be able to thread all the fingers the first time you try. Resting the fingers between the toes may offer enough stretch, but for more sensation, rock the fingers back and forth (the secret "handshake") and/or fan the fingers to spread the toes. (If these movements don't offer any sensation or challenge, try the downward yoga handshake instead, threading the fingers from the top of the foot.) 
5  With your fingers still nested in the toe spaces, slide your thumb along the inner arch of your foot. Massage tender areas with slow and firm circular motions, and/or gently press your thumb down, and hold, over tight spots. Release and wiggle the toes. Repeat with the other foot.
Indie  Spirit 
With repeated practice, the yoga handshake will help unstick glued-together toes.  The next exercise, which can be performed sitting or standing, encourages the toes to move independently.
6  Press one foot down, grounding the balls of the toes. Lift and spread the toes, then lower them. Be sure not to let the foot roll toward the outer side; the big toe mound needs to remain grounded. (At first, not all the toes may  lift; the pinky toe can be especially stubborn.) Repeat 2 times, then switch feet. Practiced regularly, this exercise lifts and strengthens the inner arch, which can help reduce pain from bunions–the bony bumps that develop when the big toe angles in toward its neighbor toes.
7  Next, keeping the other toes relaxed, lift the big toe of one foot off the floor, then lower it down, trying to stretch it forward as you do so. Repeat the Big Toe Pushup 5 times. (You may feel sensation climb up through your inner arch into the calf.) If the toe refuses to lift on its own, hold down the other toes. (Giving the toe a pep talk also helps.) Repeat with the other foot. Try the same action with the little toe of each foot. If you can get the pinky toe to move even a tiny bit, it counts!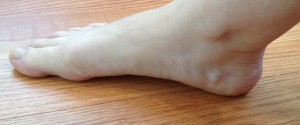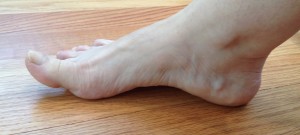 Big Toe Pushups activate and lift the inner arch of the foot, as shown above. Notice the lift in the inner arch of the foot performing a  Big Toe Pushup, right, compared to the arch of the same foot at rest, left. 
8  To increase toe mobility (and impress your friends), press both feet to the floor, ground the toe mounds, and lift all the toes. Then lower just the big toes. Continue lowering the toes, one at a time if you can, then lift them up again, one at a time, making a ripple effect. Repeat 2 times. At first, your toes will resist moving independently, but with practice, you'll get a little wave action going.
Wrap up your private foot treatment session by vigorously rubbing the soles and arches with your knuckles, one foot at a time. Celebrate the arrival of sandal season with some or all of the above movements. If your time is as tight as your toes, try working just a few of the exercises into each week and see where that first step takes you.
Happy feet photo © Cristian Marin | Dreamstime.com.
Saturday, May 3rd, 2014
The author helps area residents rejuvenate their yards after Hurricane Sandy
by Alana Cohen
 Flowering crepe myrtle
After the destruction caused by Hurricane Sandy in our area last year, I was contacted by several Westchester homeowners who needed a gardening rebirth. Their requests were different from the design projects I've received in the past: these clients had just lost mature, exquisite trees (often damaging their homes as they fell) that had offered both beauty and privacy. They were left feeling wide open to the world, and were mourning the loss of their statuesque anchors.
Sandy's Sobering Statistics
Hurricane Sandy was the second costliest hurricane in US history and the largest storm of its kind to hit the East Coast, where it took over 150 lives and destroyed or damaged 650,000 homes. Next to these tragedies, the loss of trees may seem trifling. Yet trees graciously offer us humans shade in the summertime, shelter during the rain, and solace and beauty all year long. For animals and insects, trees provide sustenance, protection, and a place to build a home.
In Westchester County, Hurricane Sandy was as cruel to our leafy friends as she was to us. Thousands of trees were toppled in our streets, yards, and parks. Rye Nature Center and Franklin D. Roosevelt Park in Yorktown lost over 100 trees each. In Ward Pound Ridge Reservation, Sandy's wicked winds destroyed an entire pine forest of 1,000 trees.
The loss of a tree cannot be compared to the loss of a human life, yet our trees are some of our oldest friends, and we  miss them when they've gone. 
                  -Louise Fecher
I was struck by my own sadness over their losses, knowing that the magnificent and mature specimens that were destroyed by Sandy can never be replaced in our lifetime. But the challenge to me as a garden designer is to provide my clients with new and exciting opportunities. Loss can open up possibilities. In the garden, that can mean beautiful flowering ornamentals–deciduous trees with stately presence and exciting autumnal color–as well as evergreens to provide privacy.
A lovely older couple who reside in Mamaroneck lost a magnificent mature hemlock during Hurricane Sandy. The tree was a work of art, and so large that it took up a big piece of their backyard. As wide as it was tall, the tree was defining to the property. For years, it had buffered the couple from noise and turned their yard into a private sanctuary.
"Loss can open up possibilities. In the garden, that can mean beautiful flowering ornamentals  .  .  . as well as evergreens to provide privacy."
As sad as the loss of this stately evergreen was (the tree had also fallen on the house), I began to see it as an opportunity to offer my clients some fun alternatives. Instead of replacing the hemlock, I suggested we plant a different evergreen: a leyland cypress.
I explained to the couple that this tree would grow, but not get as large–nor eat up as much property space–as a hemlock. (Fully grown examples of the leyland cypress are shown at left.) With this tree, the homeowners would have less shade in their yard, and their vegetable garden would no longer have to struggle for sunlight. 
One of my longtime clients, a resident of Edgemont, was hit hard by Hurricane Sandy. He has a large property with many mature, majestic trees. Some of the trees in his front yard came down in the storm, with one humongous tree crashing right on the center of his house.
His refurbished front yard now includes a fantastic flowering ornamental tree–the crepe myrtle–which I placed at the corner of the house. The crepe myrtle has an interesting, spotty bark and tiny crepe paper-like flowers in pink and purple. (The image at right shows the beauty of the crepe myrtle's bark in wintertime; in contrast, the tree's flowers are shown in the picture at the top of the page.) One of the many great things about this tree is that it blooms in late summer when nothing else is blooming. 
The crepe myrtle is an extension of my Edgemont's client's new front foundation plantings, which I had to replenish after Hurricane Sandy. Keeping in mind that foundation plants need to look good year-round–and that this homeowner's front yard is a low-light area–I blended evergreen shrubs of varying shapes to provide both interest and a neat structure to the house, as shown below.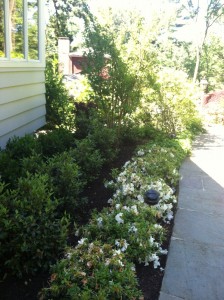 Flower bed in Edgemont
The foundation bed, which is very long, begins with a weeping English repandens yew, followed by two layers of flowering evergreen shrubs (including the cherry laurel) as the bed gets wider. This is all mixed with white azalea for spring flowering. As he bed widens further, I added olga mezzit–which is a small-leaved rhododendron with deep pink flowers–and the crepe myrtle with its multi-season interest. The foundation bed will provide a succession of bloom from the spring through the end of summer, and who doesn't like that?
Despite their losses, the homeowners I worked with post-Sandy were fortunate to be able to replace and rebuild. I marvel at their resilience and their ability to "weather the storm."
Tips for a Garden Reboot
Does your garden needs rejuvenating? Think first about your available lighting–that will
guide you to picking plants that will thrive. Remember to consider the tree or shrub's ultimate growth so that your new plantings have the full ability to spread gloriously. And keep in mind the tree or shrub's special qualities throughout the seasons: will it produce color in the fall or interesting bark in the winter months?
Water regularly for the first year of growth to help establish roots. Happy planting!
                                                  -Alana Cohen
---
Alana Cohen received her certification in garden design at The New York Botanical Garden. She has enjoyed creating and rejuvenating gardens in Westchester for the past 15 years, and believes in the healing powers of both gardening and yoga. You can reach Alana Cohen Garden Design at (914) 589-2345.
Photo  credits: flowering crepe myrtle © Sergio Schnitzler | Dreamstime.com; leyland cypress © Anthony Baggett | Dreamstime.com; flower bed  © Alana Cohen; winter crepe myrtle © Darryl Brooks | Dreamstime.com; leaves of cherry laurel © Moniphoto | Dreamstime.com
Thursday, September 26th, 2013
Meet
Douglas Rushkoff

: a heavyweight in the field of media ecology relishes the lightness of being on the mat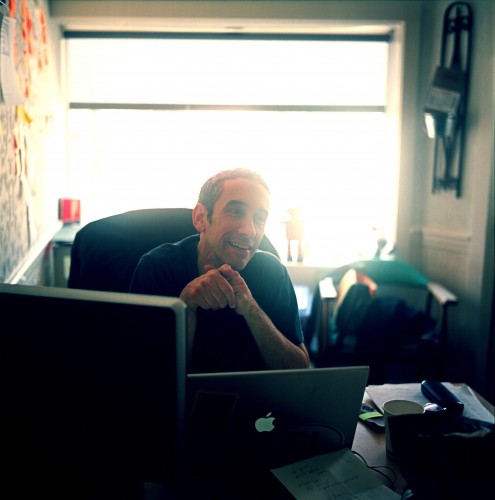 by Louise Fecher
Present Shock . . . a media theorist navigates the sea of modern distractions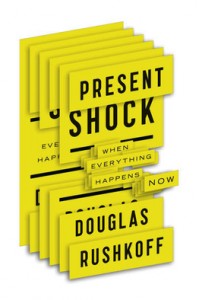 Your front doorbell is chiming, the answering machine in the living room is recording a message, the drier downstairs is beeping. On your computer, an impatient queue of emails demand attention, including a prod from Facebook reminding you that "a lot has happened" since you last checked in. Tucked in your handbag, your cell phone chirps. You don't know which call to answer first, which crisis to avert, who (or what) to pay attention to and in what order. Your think your life is all about deadlines and demands, and you want to scream. Do you need a vacation? Probably. Are you suffering from "present shock"? Definitely.
In his latest book, media theorist Douglas Rushkoff explores our relationship to time in the digital age and how our perceptions of time paint our personal, cultural, economic, and political landscapes.  "We tend to exist in a distracted present, where forces on the periphery are magnified and those immediately before us are ignored," Douglas writes in the preface to Present Shock. He continues, "Our ability to create a plan–much less follow through on it–is undermined by our need to be able to improvise our way through any number of external impacts that stand to derail us at any moment."
In the chapters that follow, the author deftly sifts through the complexities of what got us here with clarity, passion, and humor. There are five stops on Douglas's carefully drawn road map to understanding present shock. First stop– narrative collapse–is the inability to create and comprehend stories that begin and end: think reality TV programs devoid of scripts (and intelligence); perpetually raging news program hosts vs diligent reporting and analysis. Then there's "fractalnoia," a term coined by the author to describe the desperate desire to make sense of a narrative-challenged world by connecting dots that are not actually related. Conspiracy theories, the author notes, are one result of favoring disjointed patterns over straight paths.
Douglas doesn't waste readers' time by decrying the digital world; rather, word-rich and wise, Present Shock offers understanding and awareness. From this place, we can escape trapped-in-the-moment presentism and shape a more hopeful and healthy life, giving each moment, as Douglas writes, "the value it deserves, and nothing more."                                   –Louise Fecher                                                                                     

Douglas Rushkoff spends a lot of time sitting down on the job. "I'm either sitting and thinking, or sitting and writing," he says. Fortunately, Douglas has a pretty cool job. An intrepid observer and interpreter of media and how communication methods shape our actions, politics, and culture, this New York City native and Westchester resident has written twelve books, created documentaries for PBS, and penned articles for The New York Times and Time magazine. A dynamic speaker, he has lectured at universities and conferences around the world, teaches at The New School in Manhattan, and has been a guest on many radio and television programs. 
The robust response to his Douglas's newest title, Present Shock: When Everything Happens Now (Current, 2013) (see the sidebar at right), has sent the author spinning like a human tornado: one day he's filming The Colbert Report in New York City, the next he's doing a signing at a Canadian book store, a few days later he's lecturing in Washington, DC.  
Exciting? You bet. But laboring over a laptop can wreak havoc on the body, as can sitting on cramped airplanes or driving here, there, and everywhere to promote your work. To help stay healthy in body and mind, Douglas has found a refuge: a dedicated yoga practice that is teaching his body to fly as freely as his thoughts.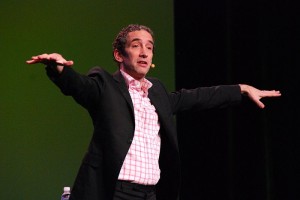 Douglas Rushkoff taking flight on stage.
"I [thought] yoga might be a good way to get back into the body and create some time and space for me as a human," he says. "That it would support me taking care of my wife and daughter, support me not sleeping. I'm working, like anybody, working three jobs to pay the mortgage and the taxes. And the jobs I do are very public. It's great on a certain level, but when you're doing NPR, and then a TV thing, and then a press thing, a lot of stress hormones get released in your blood."
Douglas began working with Karen Safire, a former dancer and a popular Westchester yoga teacher, when he heard about a program that she was starting near his Hastings-on-Hudson office. He'd taken a smattering of yoga classes during college in New Jersey–he graduated from Princeton in 1983–and after, while living in lower New York. ("I would sometimes go to those sexy classes in the East Village," he says with a laugh.) Later, living on the West Coast (where he earned a Master of Fine Arts from the California Institute of Arts in Los Angeles), he developed a daily tai chi practice. But Douglas was a novice when he walked into Karen's yoga class two years ago. He wasn't familiar with the poses and, like many newbies, would struggle to lunge his foot forward from Downward Dog. "You should have seen what I used to have to do to get it up there," he says, playfully mimicking leg dragging movements.
Douglas is astounded by how far his physical practice has come–"it's crazy!" he says. He's even more surprised by his new-found passion for inversions–a class of poses he used to avoid with equal passion.Diminutive and determined, the author continued taking class, going twice a week whenever he was able. Now, sprightly at age 52, Douglas is at home with classmates who are longtime yoga practitioners. He can lunge like a lion, soar like a bird (just last month he found himself poised perfectly in Crow, a challenging hand balance), and in time, will likely be able to leap tall buildings in a single bound. 
 "Now I'm all about the inversions, which I'd never thought I'd do," the author says. "There's this moment. You kick your legs up like three times. But then there's the one when you feel it's going to happen. It's like, whoa! I like that feeling; I like it because I was so afraid of it for so long."
A dedicated yogi knows that the poses are just part of the practice. And for Douglas, yoga offers a sense of community and safety that he often finds lacking in his very public professional life.  For this reason, he declined to be photographed in yoga postures for this article, preferring to keep his personal life off the Internet. "Any photo could end up being re-contextualized and tweeted by 'haters' in an effort to discredit my work. Sad, but there it is," he admits.
If you see Douglas as I do, as a sweet, funny, and supportive yoga classmate (Karen Safire, shown below demonstrating Crow pose, is my teacher as well), it's hard to imagine hatred being aimed in his direction. But when I asked Douglas about it, he reminded me that his theories and ideas are the target–not him–and he's learned to accept that.
Karen Safire taking flight in Crow pose.
"The world's gotten meaner," Douglas says. "Because the economy's doing poorly, because the public discourse has degraded into this very polarized clash, because there's a lot of politicians and a lot of people in media now who are actively fomenting discontent–people who think Obama and Osama are the same person. There are angry people out there. And when you're . . . up on the stage, on the radio, putting yourself out in front of hundreds of thousands of people a day, you're bound to run into some mean ones.  So let them attack what you are saying, your belief system."
But Douglas won't accept, or do anything to inadvertently encourage, critics bringing his family, his home, his yoga practice –"the most sacred, personal parts of my life"–into the public debate. "Not everything in one's life can be grist for the mill, or there's no life left!" he asserts.
For Douglas, yoga provides not only a refuge from daily demands, he's also found his practice to be a delicious contrast to his professional life. As an author, commentator, and consultant, he must bear the mantle of authority, be an expert. In yoga, he is able to experience the opposite. Although he's becoming proficient at physically demanding asana, Douglas believes he's moving into what he calls "an eternal beginner phase." 
"You make this thing called progress–moving further forward. But when I move forward, I zoom out more, and see that the thing is actually further away," he muses. "Every time I go into yoga, I walk into this room and be blank. It's so nice. Today, wherever we are, it's like discovery every single time. I'm just loving that eternal beginner thing."
 You can read more about Douglas and his work at his website, www.rushkoff.com.
Saturday, July 20th, 2013
A New York yogini finds her focus in the beauty of plants and flowers
by Alana Cohen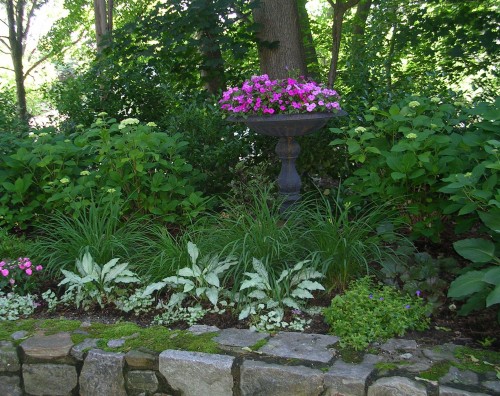 One of the author's garden designs
Summer is the perfect season to embrace the beauty of the great outdoors. Plants and flowers are abundant, delighting our eyes with color, shape, and texture. Whether you have a deck dotted with planters or a backyard garden to view, now is the time to drink in the beauty. 
For me, there's nothing more satisfying than being surrounded by beautiful flowers. My passion for garden design was launched in the early 1990s during many visits to The New York Botanical Garden with my young children. My sense of color, composition, and scents were ignited, and I began to see suburban gardens and parks with new awareness. I started taking classes at the Botanical Garden, earning a certification in garden design. My studies further heightened my awareness, opening my world view to one of creating beauty.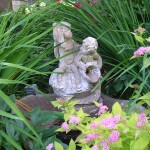 When I'm planning a garden for one of my clients, my concentration is fully focused in the moment, as in my yoga practice. I look at each plant as a whole, considering its color, texture, and height. Does the color affect my mood? And if so, how? Do I like the shape of the leaves? How will one plant work in combination with another?
No distractions interrupt my train of thought when I'm creating a garden palette. It's as if I'm on my yoga mat: my intent is all encompassing. Just as the individual poses in a yoga practice work together to help my body find its optimal balance, each plant that I choose contributes its unique qualities to a beautiful whole.
When you choose flowers for your own garden, think about the affect you want to achieve. Do you want the floral display to provide visual excitement, or would you prefer to be soothed? Do soft pastels relax you? Do jewel or hot tones excite, or irritate? There are no rights or wrongs when choosing a color palette that pleases you.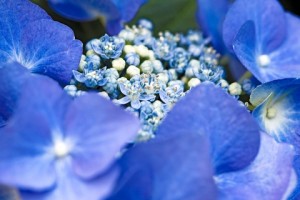 Blue lacecap hydrangea
If you want your garden to be a soothing vision of soft pastels–and if your planting area is sun drenched–I recommend including pale-pink mallow, white phlox, and Russian sage, which has blueish/lavender flowers. Combine these perennials with light-pink Knock Out® roses for a constant show of color that will last until winter frost. (Knock Out roses are wonderful shrubs that I use often in my designs; they are beautiful, low-maintenance, and disease-resistant.)
Does your garden have more shade than sun? Then you can enjoy the beauty of long-blooming hydrangeas. There are many varieties: you might opt for the soft blues of Endless Summer hydrangea; lovely lacecap hydrangea, which comes in pink and blue shades; or the pure white blooms of Annabelle hydrangea. Compliment your hydrangea selections with pink or white astilbes and lemon-colored lady's mantle.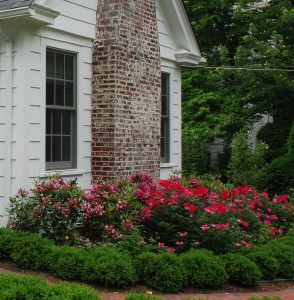 If, like me, you enjoy rich, jewel tones in your garden, you can create that palette with the same plants I suggested above: except for the Russian sage and lady's mantle, all of these plants are available in deep pink and red shades. (The side garden shown here, which I designed for one of my clients, includes bright pink/red Knock-Out roses.)
No matter what kind of garden or plant grouping you put together, I hope you discover that creating beauty is both satisfying and uplifting. Gardening, like a yoga practice, poses challenges. I certainly have learned from my own yoga practice–and my garden designs–what works and what does not. Enjoy the learning process (if you're new to gardening, see Green Thumb Basics, below) and Happy Planting!
Green Thumb Basics
Salute the sun When planning a garden, the most important question is how many hours of sunlight do you get in the area where you want to plant. Full sun? Partial sun? No sun? Choose plants accordingly.
It's great to hydrate Planters dry out quickly, so give them regular attention. For the garden, I recommend a drip sprinkler system. Flowers thrive better if watered from the root.  A drip sprinkler system can also be put on a timer to ensure the plants get watered without the worry.
If you don't have a sprinkler system, you can purchase a hose with holes in it to use on the desired area. 
 Sun-loving annuals in an antique planter
Make annual resolutions Planting annuals when perennials are finished provides a continuous display of color. Some of the annuals that I enjoy with great success year after year are sun-loving lantana, cleome hassleriana, calibrachoa, angelonia, cosmos, and petunias. Shade-loving annuals include impatiens, tuberous and wax begonias, and the dramatic leaves of calladium, which come in a variety of colors.
Be a deadhead Remember to cut the spent flowers so your arrangement continues to provide a great show until frost.
---
Alana Cohen received her certification in garden design at The New York Botantical Garden. She has enjoyed creating and rejuvenating gardens in Westchester for the past 15 years, and believes in the healing powers of both gardening and yoga. You can reach Alana Cohen Garden Design at (914) 589-2345.
Garden and planter photos © Braeden Cohen; Blue lacecap hydrangea photo © Moonbloom | Dreamstime.com
Thursday, July 5th, 2012
A mom and her daughter discover that learning is as natural as breathing
by Miriam Shepard-O'Mahony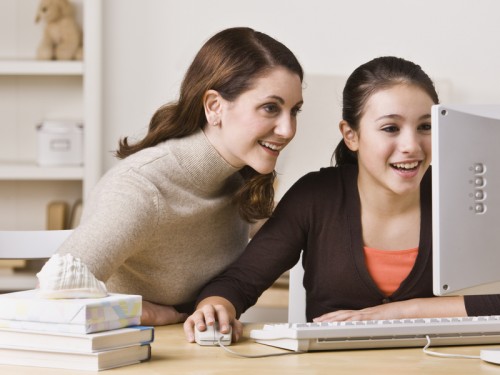 When I left Katy at school on her first day of kindergarten in 2003, I walked home in tears. I was crying for the idyllic years of her early childhood that I thought I'd never experience again. We woke when we felt like it and followed our own bliss each day. Katy was learning from playing and pretending, coloring, watching movies and TV shows, and listening to me read aloud. She was never bored and was a bright, cheerful little person. If I had known that day what the experience of school would do to her spirit, I would have been crying for another reason. 
Six years later, I found myself filling out the forms to remove Katy from school. Two years previously, the school system had labeled her as learning disabled because she wasn't reading and doing math on grade level. They had placed her in special education classes, which were accomplishing nothing. Katy would be moving on to middle school that fall, and I was sure that if she remained in special ed she would lose all of her will to learn. Although I had taught high school and college, the prospect of teaching my own child made me feel nervous. Nevertheless, it was a relief to say goodbye to the soul-shriveling mentality of the public school system that had transformed my cheerful 4-year-old into a miserable, school-hating 10-year-old. 
Up to that point, I had never considered homeschooling, but my options had run dry. (We had tried a rigorous tutoring program that improved Katy's reading skills, but she hated every minute of it.) That summer, I would do my research and explore how to go about homeschooling in the fall.
I'd been an at-home mom since Katy was born, so I thought that the transition to homeschooling would not be a dramatic life change for me. However, when Katy was in school, I'd use those seven hours to hone a craft that had fascinated me for years: designing and sewing haute couture for fashion dolls. My work had been shown in doll and craft magazines, and I was selling my designs on eBay. I was making a name for myself in the doll collecting community. While my daughter's welfare came first, I had more than a twinge of self-pity when I anticipated giving up my creative work to homeschool come September.
When I pictured myself homeschooling, I imagined that I'd transform into teacher/mom at around 9 am, and Katy would cheerfully sit at the dining room table, do worksheets, and read textbooks. But within the first week of homeschooling that autumn in 2009, I discovered that the "school-at-home" model was not going to work for us: Katy ran from the room crying hysterically after I'd attempted a lesson on subtraction.  
While talking to Katy later when we were calmer, I realized that her self-esteem had been damaged in school beyond anything I'd imagined. Everything "schoolish" filled her with loathing. Home had always been a haven; now it seemed as if school had invaded her home and her mother, and there would be no escape. I knew it would be impossible to teach her anything unless I used force, which I was not willing to do.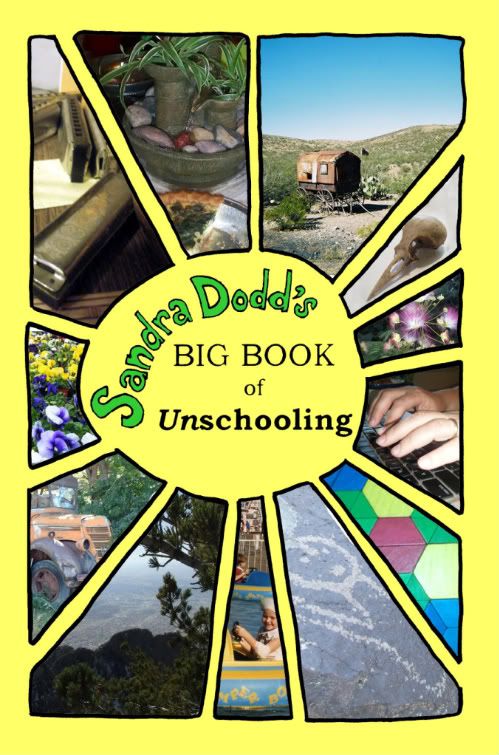 At this pivotal point in Katy's and my life, I came across the philosophy of "unschooling" and the writings of home education advocate Sandra Dodd. Unschooling revealed a way to respect Katy's interests and skills and put me in the role of learning facilitator and partner rather than authoritarian instructor/antagonist. Unschooling is often described as "peaceful parenting." 
A key principle of unschooling is that learning is something we do all the time and is as natural as breathing. Whenever our imagination and interest is engaged by new information or skills, we are learning. It doesn't just happen in school, and it doesn't have to be divided into academic subject areas. It doesn't even require teachers. 
Unschooling parents encourage their children to pursue their interests and live according to their own schedule, without formal lessons. There is a strong emphasis on respecting your child and thinking of him or her as a person, not as a different form of human life that you can coerce. Since I had a bright, independent child who did not respond to traditional didactic methods, I thought that this approach would work for us.   
Whenever our imagination and interest is engaged by new
information or skills, we are learning. . . . 
In the years that have followed, Katy has flourished. She spends hours at the computer exploring Web sites and using art and editing software. I discovered that YouTube isn't just a place to watch cat videos or Justin Bieber–it is an amazing entertainment and information resource. Katy developed her own taste in music by watching music videos, found how-to videos on a variety of topics, and even learned some Japanese language.  
One of Katy's favorite things is watching reviews of classic TV shows. She has  developed an amazing understanding of plot and character vocabulary as a result. Another passion, watching toy reviews, inspired Katy to create her own reviews on YouTube. She found Japanese Anime on the Internet, which led to her to Manga literature, a popular form of Japanese graphic novels. When she started haunting the Manga shelves at the bookstore, I was delighted: it was just a joy to see her finally reading for pleasure. Most recently, Katy discovered superhero comic books. You'd be surprised at how much she's learned about World War II, Greek mythology, and the science of DNA and radiation by reading comic books and then asking questions and doing further research on her own.  
Today, my 13-year-old daughter and I live a life that is similar to the idyllic existence we had before she entered kindergarten. There is no more nagging Katy to get out of bed, get dressed, breakfasted, and out the door to be in time for school. It doesn't matter what time she wakes up now, as she has the whole day to learn: her "school" day is her own to shape. 
As for me, I discovered that homeschooling allows more time for my creative endeavors than I'd thought possible. Free from the stress and constraints of the daily school schedule, both Katy and I have more energy. And because I allow Katy the time she needs to attend to her own projects and passions, she understands my need to work through a project that has me in thrall.
Free from the stress and constraints of the daily school schedule,
both Katy and I have more energy. . . .
I am no longer the arbiter of Katy's bedtime. She goes to sleep when she is tired. Usually we end the day together, watching TV shows we both enjoy and talking about what we did that day and what we plan for the next.   
There are as many ways to homeschool as there are families. For children who have difficulty functioning in the classroom because of physical or mental differences, children who require individual attention and extra time to figure things out, and children who want to focus on one skill or interest at a time, homeschooling can be a wonderful experience. When you are not spending all your energy trying to comply with the arbitrary academic demands of the school system, but rather focusing on your child's developing needs and abilities, life gets much simpler and focused. Having my child learning at home has given my husband and me a more peaceful life and a happier child than I would ever have imagined.
For Further Reading
John Caldwell Holt. How Children Learn (Classics in Child Development). Da Capo Press; 1995.
John Holt and Pat Farenga. Teach Your Own: The John Holt Book of Homeschooling. Perseus Publishing, 2003.
Sandra Dodd and Pam Sorooshian. Sandra Dodd's Big Book of Unschooling. Lulu; 2009.
John Taylor Gatto and Thomas Moore. Dumbing Us Down: The Hidden Curriculum of Compulsory Schooling. New Society Publishers; 2002.
---
Miriam Shepard O'Mahony has a BA in English from Hofstra University and an MA in English from Georgetown University. She was working on her PhD dissertation in English at the University of Maryland when she decided she'd rather have a baby than another degree. Her haute couture fashion doll clothing, YumYum couture, has appeared in doll and craft magazines and has earned first prizes in competition. Miriam lives in Maryland with her husband Kevin, daughter Katy, and two cats.
Mother/daughter photo: © Avava | Dreamstime.com; doll photo courtesy Miriam Shepard O'Mahoney
Saturday, April 28th, 2012
Meet Mollie Vogel —

This 91-year-old Mount Vernon native has spent half a century on the mat

by Louise Fecher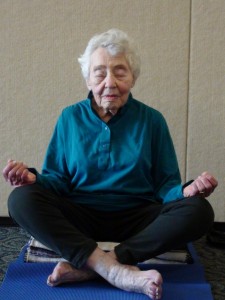 When Mollie Vogel came to Yoga Haven in Tuckahoe to take my Sunday morning class at the studio late last year, she turned many heads. A tiny featherweight white-haired lady, then 90 years old, she gave the impression of fragility to those who didn't know her. In the studio hallway, students gazed in wonder and stood aside so she could easily pass; in the classroom, where I teach Restorative yoga, students eagerly offered to help Mollie set up her mat and props. After class, a student politely inquired about her age, and when Mollie had gone, people spoke of her in awe: "Did you see that little old lady?"  "How inspiring!" "Wow!"
Mollie, a little old lady? I have been fortunate to be Mollie's yoga instructor for the past six years at the Sinai-Free Synagogue in Mount Vernon, and have never thought of her as an "old lady". Mollie looks delicate, but she's been practicing yoga for nearly 50 years and is made of sturdy stuff, inside and out.
Over the years, her physical practice has become more gentle: she hasn't done a Headstand in decades ("it never thrilled me," she admits), and has had to bypass asana altogether after illness or surgery. But Mollie still loves her Warrior poses and Adho Mukha Svanasana (Downward-Facing Dog), and don't dare try to keep her from Viparita Karani (Legs Up the Wall), her favorite asana. And at the end of every class, her distinctive rumbling "om" is always the longest of all.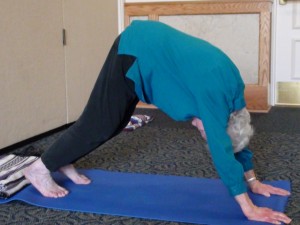 Mollie in Downward-Facing Dog.
Active in body and mind, Mollie is a gentle warrior in the practice of yoga and an inspiration to anyone who has seen her on her mat. When she was diagnosed with spinal stenosis several years ago, she refrained from asana until she received the okay from her doctor. But she still came to her beloved weekly class ("I'll do the poses in my head," she would tell me) and participated fully in the breathing, meditation, and relaxation components.
"I feel deprived if I don't go to yoga," she says. "After injury or surgery, as soon as I can do yoga–with limits–I do. I feel it's an important part of my life, my well-being."
Born and raised in Mount. Vernon, Mollie celebrated her 91st birthday in early March with a festive family brunch at X2O Xaviers on the Hudson on the Yonkers waterfront.  The oldest of three children, she graduated in 1937 from A.B. Davis High School (now Mount Vernon High School) and started working as a bookkeeper in Yonkers.
She met her future husband, Seymour Vogel, when her family moved next door to his in the early 1940s. In 1944, the couple wed. Together they raised four children (their eldest is now 63) and sent them through college. (The Vogels now have four granddaughters.)
After the couple's children had grown, Mollie, then in her 40s, returned to school. While working part-time as a teaching assistant in a nursery school, she studied at the College of New Rochelle, earning a bachelor's degree in liberal arts. (Later, she took graduate courses and earned a teaching license.)
Mollie started practicing yoga in the late 1960s. She heard about a Hatha yoga class offered at the YMYWHA in Mount Vernon. Accompanied by her younger sister, Adele Arpadi ("she was the first one of us to stand on her head," Mollie says), she showed up to learn–and never left. It was definitely a case of love at first squat.
"I had always walked a lot, but I wasn't an athlete," she says. "From the start, I felt good doing yoga, and it never left me with a feeling of exhaustion."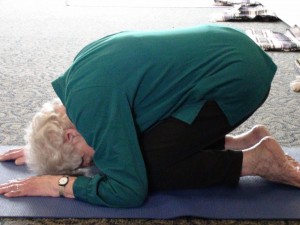 Mollie in Child's Pose.
The practice of yoga was different then, Mollie insists. "There weren't so many types–you just did yoga!" she says with a laugh. You didn't practice in yoga pants or comfy sweats, either–leotards were de rigueur, Mollie recalls. And her yoga "mat" was made of stair carpeting, cut to size. "We got the measurements from our first teacher, Atmananda Lesser, and had the carpeting cut at a five-and-dime kind of store," she says.
Mollie loved doing the poses–especially Sun Salutations–but the practice was never only about asana: friendship and building community were just as important.  The students attended retreats in the Catskills, made a pilgrimage to the Kripalu Center for Yoga and Health in Stockbridge, Massachusetts, and held practice sessions at each other's homes when the class went on summer hiatus.
"Through the years, yoga has had ups and downs. Sometimes it was very popular; other times it fell by the wayside. But we were always there," Mollie says proudly.
Her much-loved class has gone through many changes: teachers have come and gone (past instructors include Barbara Kestenbaum, Tao Porchon-Lynch, and Reyna Gonzalez); the class day and time have varied; and six years ago Mollie had to find a new location for the class when the Mount. Vernon Y closed. Her sister Adele left the practice after a series of strokes, and several former students have passed away. But new students have come to take the elders' places, and all the students, both veterans and newbies, look to Mollie as the class leader.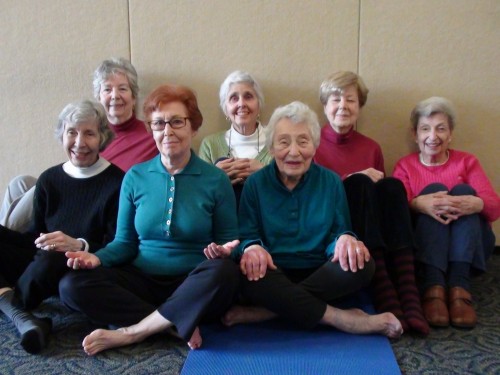 Mollie and her classmates: clockwise from Mollie's left are Francoise, Irma, Virginia, Alida, Marilyn, and Rhoda.
"I once had a T-shirt made up that said 'Ask Mollie','' says Rhoda Rothman, a longtime classmate who moved to Mount Vernon from New York City in the 1960s.  Still spritely and elegant at 88 years of age, Rhoda describes Mollie as a record-keeper and organizer. "Whenever we had a question, we always turned to Mollie," she says.
Mollie's youngest classmate is Mount Vernon native Virginia Cramer, age 70.  "Mollie's practice is remarkable; she's still very limber," Virginia says, adding that "everyone in the area knows her–people call her 'Mayor Mollie' and go out of their way to say hello."
When Mollie celebrated her 90th birthday, her classmates took her out to celebrate. (They often go out for brunch after class, too.) She warns that she expects the same treatment when she turns 100.  To help her get there, she takes an exercise class (also at the Sinai-Free Synagogue) two times weekly in addition to her Tuesday morning yoga. She walks whenever she can, and dutifully practices the physical therapy exercises she was given when diagnosed with spinal injury. "If I don't have that much time for them, I can count to ten real fast," Mollie jokes.
Of all the choices Mollie Vogel has made throughout her lifetime to benefit her health and longevity, yoga is the most dear to her. A reliable friend in good times and bad, her yoga practice is forever woven into the fabric of her life.
"It's not only physical," she says. "It's a comfort, too. A lot of my cohorts are no longer with us, but yoga gives me a connection to the old days. From the very start, I felt that yoga kept me going–and it still does."
(For information about classes taught by Louise, click here.)
Saturday, April 9th, 2011
Our expert offers some good advice for bad hair
by Patty Meehan
We'd all like to have that glorious hair that the models toss about in television commercials–shiny, thick and flowing, healthy-looking. Feeling good about how we look can affect our mood and our self-image: even the most natural-looking woman (or man) depends on good grooming to feel confident. That is where a good hair stylist comes in.  I have been a hairdresser for more than 30 years, and I have learned a few tricks that I would like to share with you, beginning with the basics: shampoo and conditioner.
Shampoo Your 'Do
Do you wash your hair every day, once a week, several times a week? There's no iron-clad rule about which frequency works best: it's a personal preference and depends on how your hair looks and your scalp feels. However, I've found that the following routines work well for my clients and friends.
Oily, limp hair? Shampoo every day.
Dry, full hair? Shampoo once a week.
Consider these factors as well:
Very active lifestyle? Shampoo every day and after vigorous activity if needed.
Perspire a lot? You may need to shampoo more than once a day.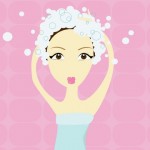 When you shampoo your hair, one lathering is enough. (The first lathering gets your hair clean; a second will strip your hair of its essential oils.) When you are done shampooing, be sure to rinse the hair well to ensure that no residue of shampoo is left behind. Any residue left in the hair will eventually leave your hair dull and flat.
Tip: Shampooing your hair in a deep sink makes thorough rinsing a snap!
So Many Shampoos, So Little Time!
Choosing a shampoo can be mind-boggling. There are so many options out there: shampoo for fine hair, course hair, or frizzy hair; shampoo for thinning hair, graying hair, or colored hair. The list is endless. The labels will steer you in the right direction, but you will have to try several brands to discover the best products for you.
Tip: A good cleansing shampoo without conditioner is best, because conditioning shampoo may leave your hair limp and unmanageable.
Hair products are a gamble, not a sure thing, so it is a challenge to recommend a shampoo without seeing your hair. I prefer the shampoos sold mainly in beauty supply stores or hair salons: Rene Furterer, Goldwell, and Nioxin are a few of my favorite brands.
Shampoos sold in salons range in price from about $15 to over $35 a bottle, whereas commercial brands cost less than $15. Although professional products are pricey, I find them more reliable than the less expensive shampoos sold in big-name stores.
Tip: Google it! You can often find a bargain on line. Many professional products are now available through outlets like Target.com and Amazon.com.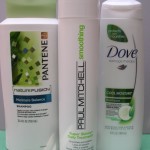 There are some good commercial brands available, however, including products from L'ORÈAL, Pantene, Dove, and Paul Mitchell. The Paul Mitchell brand was a professional product for many years, and the company has managed to maintain the professional quality in its products even at the lower price point. You can usually find Paul Mitchell products and other good commercial brands at your local CVS, Duane Read, and Harmon stores.
Be adventurous: when you are low on shampoo, try something new. Find two or three brands that you are comfortable with and alternate them for variety.
To Condition or Not?
Most of us automatically condition after shampooing, but I don't feel that conditioning is necessary for everyone. If you condition every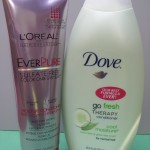 time you shampoo and still find that your hair has little volume, it may be due to the conditioner.  So if your hair tends to fall limply over your head, skip the conditioner and see if that makes a difference.
If you think you need a conditioner, choose a product following the same steps outlined above for selecting a shampoo, and use as needed. Conditioning products vary in weight; use the lightest one that works for you. Follow these guidelines:
Fine hair? Use a light leave-in conditioner or spray-on conditioner.
Oily hair? Select a light, spray-on product.
Thick or unmanageable tresses? The heavier lotion and cream conditioners are for you.
Note that a good, basic conditioner will detangle your hair. A product labeled as a "detangler" is typically lighter than a conditioner, however, and may be just right for you.
TIP: For kids, cut down on rinsing time by using detanglers or leave-in conditioners.
The weather will have an effect on your hair, too, so take that into consideration when choosing a conditioner. Dry, frizzy hair tends to be caused by a response to humidity rather than damage, so using a conditioner to control the hair's reaction to humidity will get the best results. The outer layer of your hair is a cuticle that needs moisture and gentle care. On dry days, hair needs moisturizer; on humid days, a "de frizz" product will smooth the cuticle.
The bottom line? You need an open mind and an adventurous attitude to find what works best on your hair. If you are not satisfied with your efforts, consult a professional. The best hair stylist for you will uncover your beauty, and give you a look that will provide you with confidence, poise, and grace.
---
A licensed hair stylist for more than 30 years, Patty Meehan has studied her trade in London, Paris, and New York. She currently works her hairstyling magic at Joli Salon & Spa in Harrison, New York (www.salonjoli.com). In 2000, Patty took on a second career as a yoga instructor. Through both of her careers, Patty delights in helping her clients and students uncover their best selves.
Woman with beautiful hair © Shankarajn | Dreamstime.com; Shampooing illustration © Spinsugar | Dreamstime.com
Monday, November 22nd, 2010
by Peggy Altman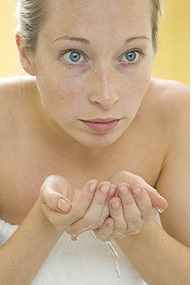 As an esthetician, I see many people who wish their skin could look better without a lot of cost and effort. To brighten your facial skin, you need to get back to the basics. The most expensive products in the world won't work optimally unless these four simple steps are taken care of: cleansing, toning, moisturizing and, during the day, using sunscreen.
Cleansing
There are a lot of misconceptions about this step. Skin should be cleansed twice a day: morning and night. If you can only do it once, do so at night so that you get the pollution off your face instead of keeping it on your skin all night and rubbing it into your pillow! Do your nighttime facial skin care routine at least 30 minutes before going to bed. You want the products you use to absorb into your skin, not into your pillow case.
Use the right cleansing product for your skin type. There's a lot of misunderstanding about dry versus dehydrated skin.
Dry skin has very small pores and produces little oil on its own.
Oily skin has larger pores and produces more oil, particularly during the teenage years.
Dehydrated skin lacks water.
People can have skin that is dry, yet feels oily under certain conditions. For example, if you have small pores but work in a fast-food kitchen, your skin may feel oily due to the environment. But you should still use a cleanser for dry skin. Likewise, a woman with oily skin (large pores) that feels dehydrated to the touch should still use a cleanser for oily skin, which is more effective at cleaning the larger pores.
Cleansers are usually labeled by skin type. In general, creamy cleaners are for dry skin, and gels and foams are for oilier skin. Bar soaps – even those that say "extra gentle" or "dermatologist recommended" – are usually too harsh for facial skin. If your skin feels squeaky clean after washing, your cleanser is too harsh.
Wash your face over the sink, not in a shower. Most of us shower in water that is too hot for facial skin. Also, our facial skin is delicate, so we should avoid the shower's water pressure.
Toning
This is an easy step: use any non-alcohol-based toning product. Nothing expensive. Toner helps reset the pH level of the skin, which helps prevent bacteria from growing. It also removes residual cleanser from the face.
Moisturizing
All skin types need to be moisturized, although as we age we may need stronger ingredients. Even oily skin gets dehydrated, especially in winter.
Like cleansers, moisturizers are usually labeled by skin type. But you also need to take into account how your skin feels. Remember the example of the person with dry skin who works in a fast-food kitchen? A moisturizer for oily skin would be a better choice for the days she works, and one for dry skin on her days off.
Moisturizers that work well in the summer may not be strong enough for the winter. Store your "off-season" products in the refrigerator, or use them on your neck.
Sunscreen
Sunscreen is currently the most effective anti-aging product there is. Many moisturizers have sunscreen as an added ingredient. If yours does, consider using a sunscreen-free product at nighttime to lessen the amount of chemicals on your skin. If you are going to be in the sun for an extended period, use a sunscreen-only product over your moisturizer. If you use a powder foundation or blush, put the sunscreen on before the powder to prevent a paste from forming over your makeup.
These are the basics! If you've been skipping any of these steps, your skin may not be as bright as it could be.
---
Peggy Altman is a licensed esthetician, licensed massage therapist, and meditation teacher. She has an office in Tuckahoe, NY, and can be reached at (914) 262-6397. Visit Peggy's website at www.aheavenlyretreat.com to find out more about her services.
Saturday, August 21st, 2010