About Louise Fecher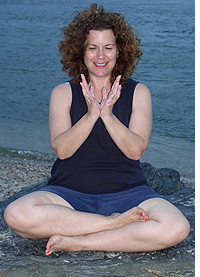 I first learned about yoga in the 1970s, when I was a high school student. I came across a yoga program on public television and watched it regularly after school. The instructor offered a simple routine, mostly floor based with mild stretches. I discovered that I was naturally flexible, and became more so with the yoga practice.
As an adult, I signed up for yoga classes through The Open Center and other venues in Manhattan. When my husband and I moved to Yonkers in 1998, I was delighted to find an award-winning, community-oriented yoga studio, Yoga Haven, located in nearby Tuckahoe. I began taking classes there, first with Jill Ganassi and then Ann Casapini, both inspiring teachers.
In Fall 2004, I was accepted into the 200-hour teacher training program developed by Yoga Haven's founder, Betsy Kase. I began student teaching (with an early focus on chair-based yoga) and completed the training in 2005. That same year, I registered with Yoga Alliance and began teaching professionally in several locations throughout Westchester, including Yoga Haven studio.
Since then, I've continued my studies through diverse workshops and trainings in Westchester and Manhattan (including day-long intensives with Gary Kraftsow and John Friend). In 2007, I was certified to teach Restorative yoga by Judith Hanson Lasater; that same year, I completed a prenatal yoga teaching program taught by Janice Clarfield. In 2009, I began training in advanced Restorative yoga with Judith Lasater at Om Yoga in New York City.
I have taught at yoga studios, senior centers, senior residences, schools, corporations, and healthcare facilities. I could teach in the middle of a shopping mall if I had to–yoga works anywhere!  My students have included seasoned practitioners and novices, eager teenagers, and savvy seniors (both active and sedentary). I enjoy helping my students improve their flexibility, strength, balance, and body awareness. Most important, I hope my students leave class feeling relaxed and ready to share a smile.